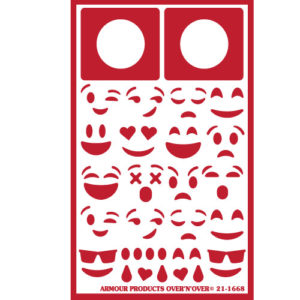 It's a fun "design a smiley face" stencil of emoji designs used to decorate a lot of things in your house and in school for kids. Just put the circle stencil template in the place, insert a emoji eye and mouth expression of your choice, add some paint or etch and there you have it, a perfect homemade emoji that looks awesome.
Specs: 5″x8″ reusable adhesive-backed stencil sheet; used for painting, cream etching and light sandblasting (recommend fine grit 180-220)
Product ID: 21-1668 – ONO Emoji Faces
Price: $6.49
---
Share this on social media or email by clicking below!