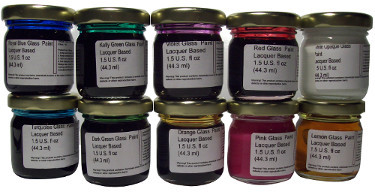 Our professional glass stain paints provide a near stained glass translucent look with is great for creating faux stained glass and regular glass painting projects. These paints are also great for spicing up your glass etching or sandcarvings. By adding a little color to your etchings, it does two things:
Allows some light to shine through which is a preferred result of etched glass anyway.
Ensures a stronger bond of paint to glass due to the abraded/etched surface that allows it to grip better.
Details:
10 different colors: blue, turquoise, kelly green, dark green, violet, orange, red, pink, opaque white and yellow. See all of our other colors available for single orders here.
Lacquer based for superior results. Acetone solvent recommended for cleanup or diluting.
Permanent and dries fast
1.5 fl oz. bottles (product container may vary)
Price: $40.99
48.99
---
Share this on social media or email by clicking below!