In this post, we feature Derek Phillips of Athens, Greece and his beautifully engraved artwork that he sent in awhile ago. I think this post is quite interesting, not only because his work is phenomenal, but also because he engraves with a unique method not talked about much: hand-scribed engraving
This engraving process is basically done by using a hand-held pen-like tool with a diamond tip that is used to scratch the surface of the glass. As you can imagine, Derek says hand scribing is more difficult and tiring on the hand in comparison to rotary engraving. He says all his work here was done with the below scribe using only two burrs.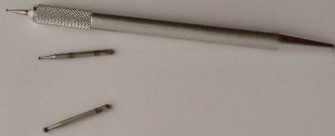 Derek shared the below comments about his work:
I have been doing engraving on ordinary glass jars with a simple pen-like tool with a diamond tip as used by dentists. Here are a few examples of recent work.

All I use is a diamond tipped scribe as in the photo with two burrs. I have 3 different rotary tools, 2 electric and one battery but the trouble is that they all have only a small number of RPM (40,000 max) and I find that in use there is too much drag on the bit. The simple scribe is better but more difficult and tiring on the hand. The other problem I have is that the burrs I use are designed to cut at 300,000 RPM and more as they are dental burrs and the way I use them the diamond dust seems to be easily dislodged and they are worn out on one or two bottles.
The below photos show some of his very talented work on jars, bottles, votives, etc.

Thank you for sharing, Derek! If anyone has comments or questions, please leave them below.
---
Share this on social media or email by clicking below!