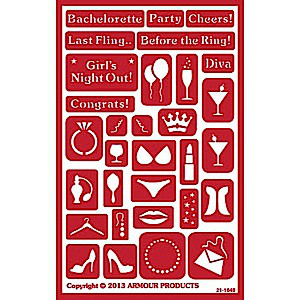 Celebrate the last night to party for a single woman by etching glasses with these stencils. There are pics like sandals, bags, ear rings, lipstick, balloons, party glass, candles, innerwears, etc are designed here. Also some wordings are there, Party designs that can be used in combinations all over the lucky girl's glass to have a fun way to celebrate her last day as a single women. Girls Night Out: 1.75″ x 5/8″, Ring: .75 x .75″ High Heels: .75 x .75″ Before the Ring! : 2.5 x .25″ these dimension inches are great going too.
Specs: 5″x8″ reusable adhesive-backed stencil sheet; used for painting, cream etching and light sandblasting (recommend fine grit 180-220)
Product ID: 21-1648 – ONO Bachelorete Party
Price: $6.49
---
Share this on social media or email by clicking below!