January 24, 2015 at 3:01 pm
If you really want to have some fun, look into what it costs to have a mirror re-plated (only a few dollars per square foot). Now, do one of your carved projects, then have the carved surface plated.I discovered this by accident about thirty years ago, when I did a unicorn on a 1/2″ piece of glass, framed it and hung it on my wall in a room with some of the ugliest floral print you ever saw. To avoid having the print show through the unicorn, I spray painted with with silver paint. When I did so, all the muscles and things I had carve jumped out.
Thanks for the tips. That sounds interesting. I think I may give it a try sometime soon. Do you have any pictures of it?

Thanks
-Eric
This may also be interesting for you:
Removing Silver Backing From Mirror
January 19, 2015 at 7:35 pm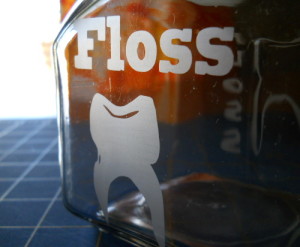 We featured Doug K. before. This time around he sent me these interesting items he etched. He etched some glass jars/ canisters, flutes for a wedding, candles which could be a great idea for Valentine's day coming up, NFL etched glass sets, and a blue glass mug! He shared the following details:
The floss canisters were a custom order for a dentist in Tennessee.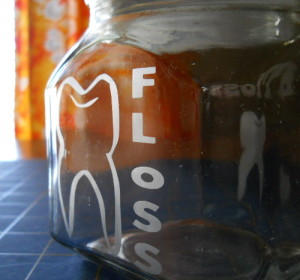 The red candle was one I purchased at Walmart and took all of the stickers off.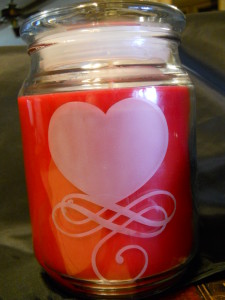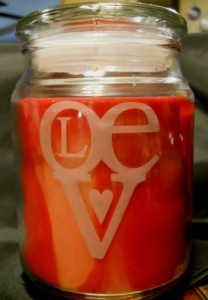 A set of Highball glass for a die hard Broncos fan. No, I did not have licensing permission from the NFL to do them.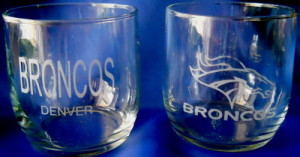 A Masonic Emblem on a $2 coffee cup from Wally World.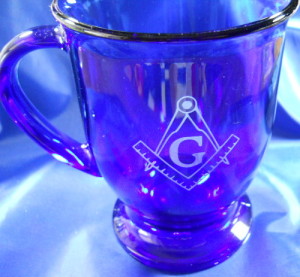 Lastly, a set of Bride and Groom toasting flutes. You can go expensive or again, get a set of 4 from WM for $8.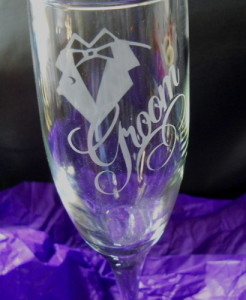 January 10, 2015 at 1:47 pm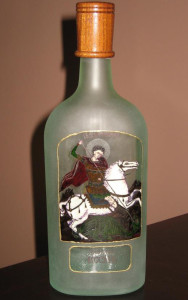 Here is the first featured glass artist of 2015! This marvelous artistic glass bottle was completed by Radivoj Jovanov. He states that it is a special technique through the combination of glass carving, sand blasting and painting (with colors for metal). He provided the following images and the steps he takes to complete this below.
I think this is unique technique because it is a combination of few techniques:
Sandblasting body of the bottle to make it's shape more visible. I leave window for carving (protecting from sandblasting by the label). Sandblasting of the other side of the bottle also make the back of the window/picture non-transparent. This make the picture more exposed and gives additional dimension to composition.
Carving the motive – carving lines, grinding shadows,… (by Power Carver and Proxon carving machines, using dentist diamonds and grinders)
Filling carved lines and shadows with felt pen
Applying paint for metal on motive
Drying the paint
Carving additional details (mostly white/cloudy, mistic). Motives like clouds, halo around saints head, eyes, Sun rays, Moon, letters…
Window is edged with the gold/silver contour color for glass
Every bottle is unique and can be personalized by the request.
This bottle on the photo is old more than 10 years and colors are still looking good. Those bottles are used for rakia (Serbian Whiskey) during the celebration of the family "SLAVA." In Orthodox Faith, every family has his own saint – protector. Every year on a certain date, by the Christian Calendar, every family celebrating his Saint in house of the oldest family man. This is the greatest family and family friends gathering during the year.
December 31, 2014 at 12:38 pm
Here is another glass etcher that I wanted to feature named Debbie D. Her ideas are unique which we don't hear much about. She etched various sayings and sentences in glass.
It reminds me when I etched this poem into a glass mug (warning, I used a poor camera to take the photo).
Anyway, she etched the pictures below which consists of mirrors, a picture frame and an ornament. Debbie stated that all of her etchings were done with cream, which surprised me. The texture of some of these etchings look like sandblasting!
I provided details next to each photo.
Below, on the left is an ornament with glitter inside and lettering on the outside. While the right is a freemason symbol etched into a framed mirror.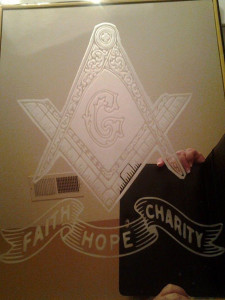 The two below have a short, meaningful phrases etched into a mirror and picture frame with a black background.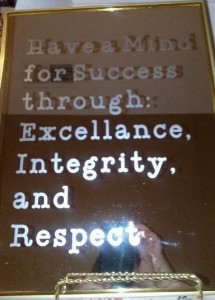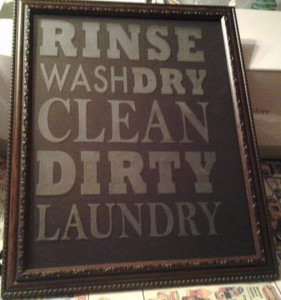 December 30, 2014 at 8:58 pm
For this round, we are featuring Patrick B's submission. He engraved an eagle with the American flag, by sand carving it into jade. He also used LED lights to light it up.
Jade glass is a softer substrate than the common, annealed glass, but can still be etched into. Jade is usually made from various materials such as limestone, sand, sodium carbonate, etc. Many glass awards for special events use jade. See his etchings below and click the photos for an enlarged view.
Patrick shared that this project was originally completed for fun, but then turned into a retirement monument for someone. I can attest that people want one every time I etch an interesting project too
He used white LEDs in the left version, then blue and red LED's in the right to light up the effects. Very cool!
Leave him any comments or questions below.