Attention: After helping a few others sell their etching equipment, I have been getting other people emailing me. I am happy to help out my subscribers, so here is another person (Sam) who is selling a Jet Stream Two sandblasting system. Again, I am not affiliated with this so please do your own research. Thanks … Eric

Sam shared the following description about the equipment with photos. Click the photos to see the enlarged view. Feel free to ask him any questions in the comments section also.
---
For Sale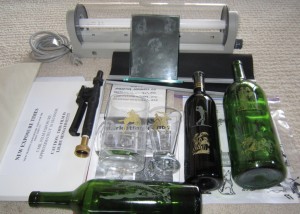 This is a most popular systems for those who looking in Deep carving capabilities on rock, glass and wood. Great for portability. Full marketing program included.**(If you'd love to start your own business at home – in a career that's both enjoyable and profitable – here's a golden and affordable opportunity for you or adding in the laser systems that need deep carving capabilities.)
- PHOTO IMAGE STENCILING SYSTEM
- Exposure System
This exposure system unit is a compact unit which provides exceptional imaging results. The unique cylindrical design provides an exposure area up to an 11″ x 14″ size. With the built-in timer, you are assured an accurate exposure. This system allows you to create Laser precision Detail with no hand cutting. You can create one of a kind or mass production projects in minutes which used to take hours.
** Photo Image Film
The key to creating Laser Precision detail. 10 sheets. (10″ x 12″ size) of 3 mil. thick photo image film.The nice feature with the photo image film is you only have to use the size piece of film for your project so there is no wasted film. You will have plenty of film for many different projects.
** Photo Image Instructions
Written details on the photo image process.
Complete Video Training
The training will take you every step of the way from the proper settings to exposing thru applying to your different surfaces such as Glass, Stone, Wood, Metal and more. You will be making perfect designs right from the start. The Training will show you how to make your larger designs as well. This video walks you through the photo image process step-by-step.
** Trigger Jet Sprayer
The trigger jet provides a unique opportunity for the photo image user to effectively wash out and develop their images after exposure. The trigger jet uses ordinary water. The complete process is environmentally safe. No more hand-washing, the trigger jet allows you to achieve extremely detailed stencils in minutes.
Application Adhesive
This specially formulated photo image application adhesive adheres the stencil to your surface. This adhesive is sandblast able and water soluble.
** Art Library
Hundreds of designs perfect for sandblasting.
** Vellum
This vellum allows the exposure of light to transmit the black and white artwork to the film, other paper prohibits the light. This combined with the Photo Image Film allows for Laser Precision Detail.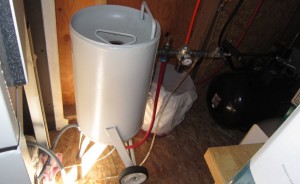 ** JET STREAM TWO
Tungsten-Carbide Nozzle- 1/8″ long lasting, quick release tip is included.
40 lb. Pressure Pot Hopper-Mounted
This great feature allows you to, with simple pull of a lever, filter and fill the pressure pot without touching the abrasive. Another great feature for precise adjustments, is the self-sealing pressure pot for quick media adjustments. We also offer an optional 100lb Pressure Pot for portability. This system is designed for Laser Precision Detail as well as Deep Carving capabilities. Everything about this system is designed and built to handle the delicate detail and the portable projects you will produce. The venturies and mixing valves are all heavy duty built for production.
Simply put this is the best foot control on the market today. The older style had a diaphragm gasket and had to make many bends and turns to operate. The Easy Flow Valve is straight thru. This means higher flow rates without any disruptions in grit flow. It is a must in producing you products. Lightning fast on/off foot pedal controls the air flow to the handpiece for precise control.
** Abrasive Sand
50 pounds of aluminum oxide, 180 grit.
** Dust Collector
Dual filtration 90cfm, 115 volt with collection 5 micron bag. Including all connections for simple hook up.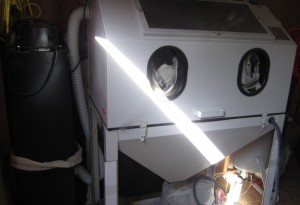 ** Jet Stream Cabinet
The Jet Stream Two cabinet comes with everything you need. It comes with a pair of comfortable gloves to control the objects being sandblasted. Heavy duty construction. Large side loading door, large viewing windows, oblong arm holes for greater flexibility inside the cabinet, easy adjustment of abrasive mix. The Jet Stream Two is built to withstand the light duty gift items as well as the heavy duty of Stone and Rock carving with everything in between.
** Instructional Video
exclusive training tapes will take you every step of the way from setting up your system to placing your stencils to adding color. We cover all the different surfaces for you. No guess work involved. This training video will walk you through the system set-up and sandcarving techniques on glass, wood, stone, multistage and coloring techniques. How to recycle your grit, going portable, Laser precision detail to deep carving we cover it all for you.
** Instructional Manual
** Complete instruction manual for operation.
Shipping Weight
225 lbs
Dimensions Overall Inside Window
Width 38.5″ 38″ 25.5
Height 63″ 24″ 10.5″
Depth 24.5″ 24″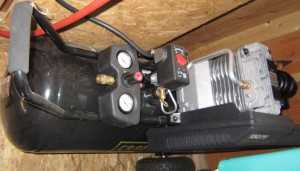 ** INCLUDED CRAFTSMAN AIR COMPRESSOR RATED AT 8CFM AT 90PSI OR HIGHER IS REQUIRED TO OPERATE THE SYSTEM Full marketing program included.
Please Call SAM for more information today at 510-798-0366.
February 26, 2014 at 9:13 pm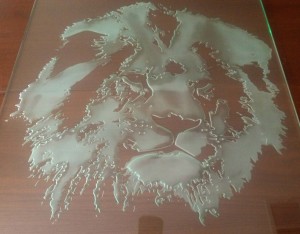 A man named Mike sent me these pictures of an interesting lion etched in a medium sized thick glass. Two reasons for this post:
1- We want to know if anyone knows about this etching and a possible artist named Holder (as seen in the signature).
2- He is trying to sell this, so let him know if you are interested.
Please see the photos he provided and leave a comment if you have heard of an artist by the name of Holder. You can see the enlarged pictures by clicking on them. It will open a new window with the large view. Mike left me the follow message.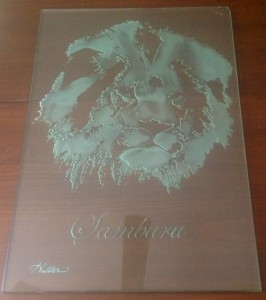 This beautiful piece of art is up for sale.. The Lion represents the Samburu Tribe (Kenya Africa)
It stands 3ft. tall x 2ft. wide 1" thick with 1/4" deep etching.
What kind of glass etching is this? Any idea who I can sell this to? Estimated value?
I haven't been able to find any information on this piece of art whatsoever.. Any help would be greatly appreciated!
Thanks again. -Matt
Contact: mbproductions12@yahoo.com
Artist: Holder
Note: There is a small chip off the glass on the upper right hand corner. Can be fixed or easily covered by a frame.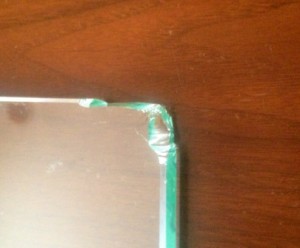 February 26, 2014 at 8:24 pm
Sand Carving Equipment for Sale – Everything You Need!
Note: This is a classified ad that someone provided me. She asked me if I knew anyone that would be interested so I offered to let others know about it. I have no affiliation with her and am just relaying the message. Please contact her directly or leave a comment below with any questions. You can view larger photos of the equipment by clicking on the photo. It will open in a new window.
FOR SALE – $4200 FOR EVERYTHING
If you have ever wanted to get into sand carving (ornaments, awards, stones, plaques, etc.), I have everything you need at a substantial savings. Everything is in perfect working order, and has been very well cared for.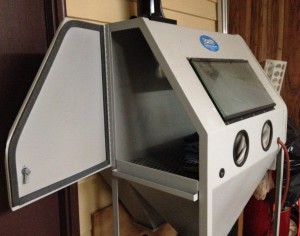 I have a Rayzist Sandblasting Cabinet, with the compatible hopper and a large 27 Gallon, 5 HP, 115 Volt Coleman Power Mate Compressor. I have buckets of Silicon and Aluminum Oxide. I have several replacement tips and some extraneous parts. This cabinet has been well cared-for. I bought this directly from Rayzist. It is 8 years old, but has very little use. It is in pristine condition. I have only used it for glass ornaments, awards and stone, and it does an absolutely awesome job. It measures 40″ w x 34″ deep, and is approximately 7' high (the motor for the vacuum sits on top). It has an amazing filter system built in.  I would like to sell everything listed together if possible, and can give you the best deal in that case, but will break it up if necessary.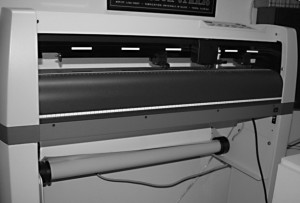 I also have a Vinyl Express Ultra Pro Cutter. (Pam included a document which explains it which she wrote on another site here.) It measures 34″ wide and 41″ tall (on its stand). It comes with some books, (logos and artwork) the manual, the software, the dongle, and some accessories. To save you from having to purchase additional software, I am also including my Sony Vaio desktop, which has the software already installed…otherwise, you would have to purchase it on the 'cloud' from the company unless you have a computer that still runs XP. It is in pristine condition. It will handle Hartco films and other heavy resists, as well as normal vinyl and specialty vinyl. I also have the plotting pen for it, and some extra blades. It's very nice. The company I purchased it from is also very supportive and has great customer service and tech support.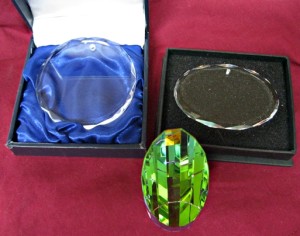 I have over 200 glass ornament blanks, and quite a few more that are thicker crystal and come in very nice gift boxes. Also, some glass blanks and award glass.
I also have a NUARC Mercury Exposure System. This is how you develop your resist. It's awesome, and the metal halide light bulb has probably less than 2 hours on it total. (These are a little pricey, so that's a plus). It is in perfect condition.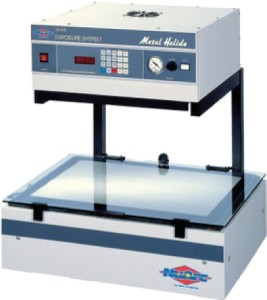 Please contact me at: kalmarrin@bellsouth.net for more information. I can't ship it. I wouldn't even know how. Way too big and heavy and awkward. You will have to bring a large pickup truck. Or a u-haul. As for payment, cash.
I'm in Kennesaw, Ga which is roughly 20 miles north of Atlanta. Right off a major interstate.
Pam
February 10, 2014 at 5:16 pm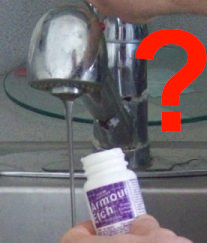 I recently opened up a small bottle of etching cream and noticed it was getting thick. Some parts were almost hardening to a point of being solid crystals!
This is fairly common if you haven't used it in awhile and sometimes the bottle can even be shipped with crystals. To dilute thick cream or prevent hardening, you can add a little bit of water as I have done in the photo on the left.
Then stir up the cream to mix the water well. I used the handle of my foam brush to stir up the cream as shown below. Sometimes I use a foam brush to apply the cream and other times I use a flat item such as card stock.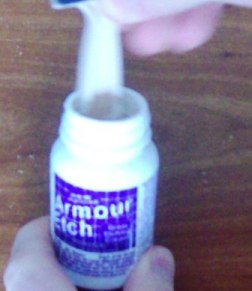 I hope you enjoyed this tip and please leave a comment below. Please share this post with others. Thank you!
February 3, 2014 at 5:28 pm
I recently received a question from one of my subscribers asking: how do you get 2 different textures, light and dark with etching cream?
Most people know that this can be done with rotary engraving and I have been doing 2 tone etchings with sandblasting through the use of either 2 stage sandcarving or shade blasting techniques.
Even though I use cream etching, I have never tried this so I tested it, and it is possible to create 2 shades.
You can do this by applying cream to two separate areas at different times and leave the cream on much less for the lighter shade. An even easier way is to spread the cream over the whole stencil the second time which is shown in detail below.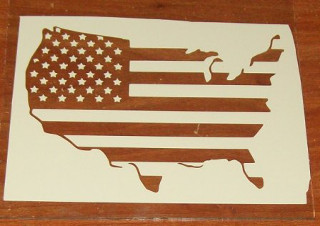 1. Create Stencil on Glass- Pick a stencil that has internal areas that have both a positive and a negative pattern. I created a unique stencil which depicts the country flag on the USA map as shown above.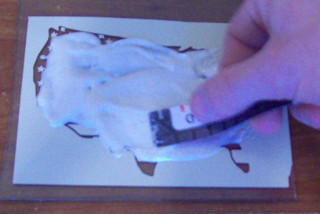 2. Spread Cream Over 1 Shade- With the stencil on the glass, you will first etch the areas that will be the most etched (white). Spread the cream over the whole stencil and wait the typical time set by the manufacturer. I waited 5 minutes as stated by Armour Etch's cream. After this you need to wipe the cream off and wash.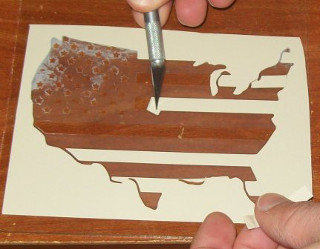 3. Remove Internal Stencil Sections- Now remove the negative areas of the stencil inside which will receive the lighter shade. Once the areas of the stencil for the 2nd tone is removed, spread the cream over both areas inside. Wait for the cream to etch a little less than the manufacturer's recommendations. This is my first test, so I removed it too quick and some parts were not etched evenly for the 2nd tone as shown in the next step.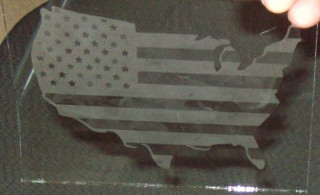 4. Remove Cream & Stencil (Complete)- After you removed the cream and the whole stencil, you can see what it looks like above. I should have waited a little longer and it would have turned out better, but this process works to create 2 shades using your cream! I will experiment with this again and document the recommended time you should wait for the 2nd shade either here or in the member's area.