November 13, 2014 at 9:15 pm
Doug Kelly is our first etcher to be featured on the blog in quite a while. He shared these four jar etchings that he did which seems to depict the old west or country feel. This can be an interesting theme to etch and the jars is another idea I've never etched!
He also shared this information about his setup and what settings he uses:
I like etching glass canisters. I use a 230 grit that can be used about 60 times and gets sharper with use. I can get most everything done in one slow pass. Built my own booth out of a large plastic bin from Home Depot ($15), cut top for viewing, have heavy duty gloves, positive air flow, light weight vacuum and a 3 gallon pancake air compressor. I use about 70 Psi. I find the most difficult thing is getting the vinyl on straight.
Cowboy Riding a Horse Etched on Jar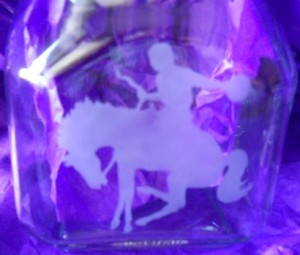 A Horse Etched on Jar- it looks like he etched in layers here to show some contrast with the head turned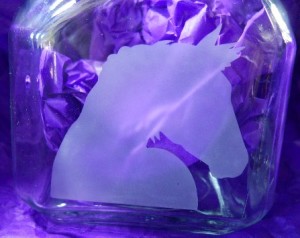 Western Boots Etched on Jar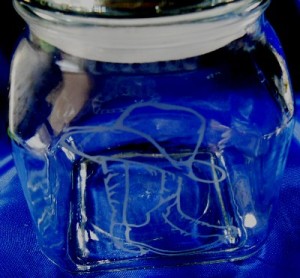 July 20, 2014 at 12:24 pm
I haven't discussed rock carving much on this website, so I figured this post will share the idea and intrigue you. Some people call it rock sandblasting, rock sandcarving, rock engraving or even etching. The idea of this is to carve text, numbers, logos, or images permanently into a large rock or small stone. This is done by using a sandblaster, which is another benefit to sandblast etching; you can engrave just about everything!
I have done quite a few of these before, first by experimenting with it a few years ago, and then working for a local that had a small side business selling these rocks. I have been recently carving more of them lately and here is one that I have completed.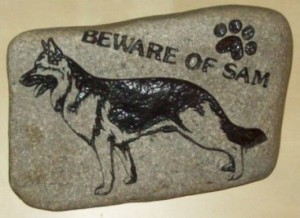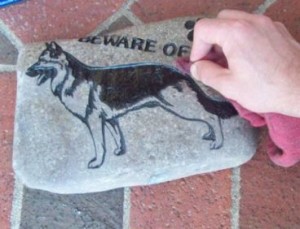 This was personalized for a co-worker with an icon that looked like her dog, text, and a paw print icon. I found all the graphics for free using my searching techniques and stencil processes explained in Module 2 here. This was a fun project and my co-worker tells me that she often gets positive comments from neighbors when they walk by on the sidewalk. She placed this in her front yard flower garden. These type of rocks are great for decorative garden ornaments.
Anyway, if you have any questions about this, leave a comment below. I will be putting together information and hopefully videos on how to sandcarve rocks soon. In the meantime, you can check out this unique stone carving from a fan.
I wanted to create this post to clear up some information that I placed on my site that is somewhat confusing, and explain another etching cream made by Martha Stewart Crafts.
In my free PDF ebook about cream and throughout other pages on this site, I have commented that all etching creams produce fairly similar results. What I meant by that, is just about all the etching creams produce similar results in terms of how much they stand out to become noticeable.
However, the overall finish of the results vary because some cream products are indeed more ideal for producing a consistent etch. The Armour Etch brand can have a rather grainy texture which can yield rough, blotchy etchings that are inconsistent.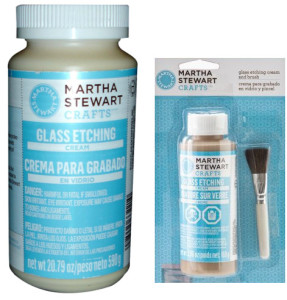 The better brands have a very smooth, consistent texture which spreads like mayonnaise. An email subscriber (Jay S.) mentioned this other brand to me as a quality, smooth spreading cream by Martha Stewart Crafts. Although I have never tested it, I assume it is similar to the Etchall brand I tested which is another smooth cream.
With that in mind, I posted different links on where to get the Martha Stewart Craft's etching cream below.
Since I have not tested it yet, I researched reviews online and found others saying good things about it due to its smooth consistency. If you have used it before, please let us know what you think about it in the comment section.
Thanks and sorry for any confusion.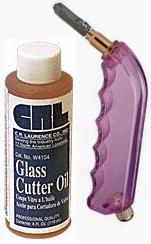 I recently got this question about glass cutters and oil.
"I just received the Toyo glass cutter (which was suggested in my bottle cutter plans). It's oil filled. How can that work based on the position of the cutter in the guide? Oil does not run uphill. Thanks in advance, Jim"
My response: The oil isn't necessarily required but it does prolong the life of the cutter and help making a nicer cut. Even if you don't use the oil, you will still get a much longer lasting life and a much cleaner cut than those cheapie cutters.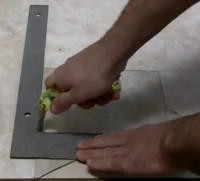 If you wanted to, you can just brush a little bit on the cutter wheel before use. Many glass art professionals don't even use the self oiling thing and just dip it in a small cup of oil.  If you are looking for oil, I provided links to some brands below.
Cutting Oil
March 29, 2014 at 8:01 pm
I created this quick video which shows you how to register through the member's area and view all the tutorials on etching and sandcarving. Please press the play button below to view and ask me any questions in the comments area.

The topics covered in the video are:
Registering (link here)
Member's access & finding the login (link here)
Viewing Content
Community
If you haven't signed up to get access yet, you can do so on this page. The middle option is the most popular. If you already registered, you can login here: http://www.glassetchingsecrets.com/member/