I recently received a question from one of my subscribers asking: how do you get 2 different textures, light and dark with etching cream?
Most people know that this can be done with rotary engraving and I have been doing 2 tone etchings with sandblasting through the use of either 2 stage sandcarving or shade blasting techniques.
Even though I use cream etching, I have never tried this so I tested it, and it is possible to create 2 shades.
You can do this by applying cream to two separate areas at different times and leave the cream on much less for the lighter shade. An even easier way is to spread the cream over the whole stencil the second time which is shown in detail below.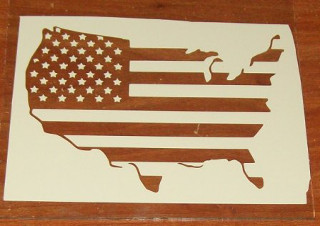 1. Create Stencil on Glass– Pick a stencil that has internal areas that have both a positive and a negative pattern. I created a unique stencil which depicts the country flag on the USA map as shown above.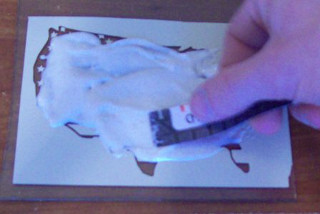 2. Spread Cream Over 1 Shade– With the stencil on the glass, you will first etch the areas that will be the most etched (white). Spread the cream over the whole stencil and wait the typical time set by the manufacturer. I waited 5 minutes as stated by Armour Etch's cream. After this you need to wipe the cream off and wash.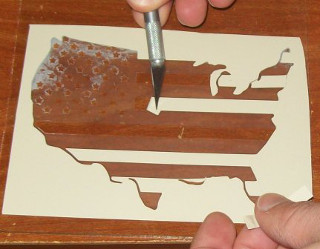 3. Remove Internal Stencil Sections– Now remove the negative areas of the stencil inside which will receive the lighter shade. Once the areas of the stencil for the 2nd tone is removed, spread the cream over both areas inside. Wait for the cream to etch a little less than the manufacturer's recommendations. This is my first test, so I removed it too quick and some parts were not etched evenly for the 2nd tone as shown in the next step.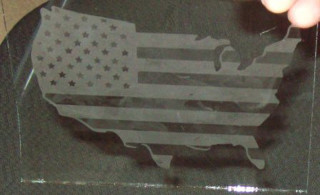 4. Remove Cream & Stencil (Complete)– After you removed the cream and the whole stencil, you can see what it looks like above. I should have waited a little longer and it would have turned out better, but this process works to create 2 shades using your cream! I will experiment with this again and document the recommended time you should wait for the 2nd shade either here or in the member's area.
---
Share this on social media or email by clicking below!