Thanks for visiting the blog and for everyone that encouraged me to create this website. All of you are awesome! I have been making a lot of updates to the website recently, and I would like to make this site as helpful to everyone as possible.
Make Your Own Portfolio Profile Idea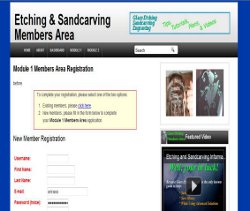 First, I want to make the website more of a community but want to get everyone's opinion on it. I plan on allowing everyone to create their own free profile and share photos of their etchings with others in the members area. We did this every once in awhile featuring a guest post before, and you can see a list of past glass etchers here. But this would be a little different so that you have a personal login and all posts would be attributed to your profile. If there isn't much of a response, then I may not do it. So let me know.
Website Redesigned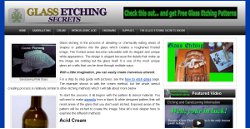 Also, I had my main website redesigned, and I think it looks much better. Please check it out here. Please share some feedback with me and what type of information people are looking for. I'd like to make some more tutorials and help people out the best I can.
Thanks again for everyone helping to make this website possible.
Please leave feedback in the comments below and any type of information the website could use to help people. And what do you think of the new web design?
---
Share this on social media or email by clicking below!