Here's our fourth art glass spotlight post for this year. This week we are featuring Cara Rider's unique stained glass art that she uses from recycled items. She sent me all kinds of different glass art photos, but we can only display a few of them here to limit the size of the page. Here are her interesting photos and words below. I hope you enjoy!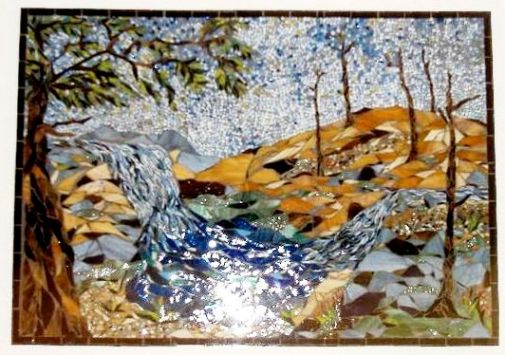 "Waterfall"
Stained glass on scrap wood
36″ x 25″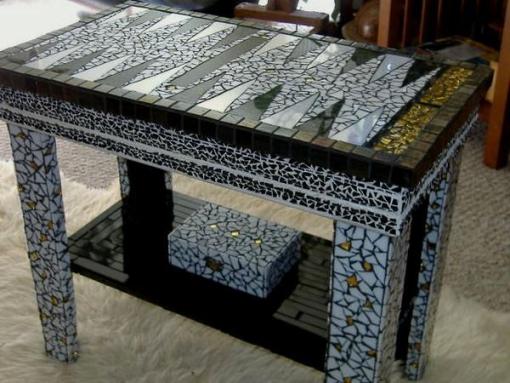 "Backgammon Table"
Stained Glass on discarded table.
20″ x 23.5″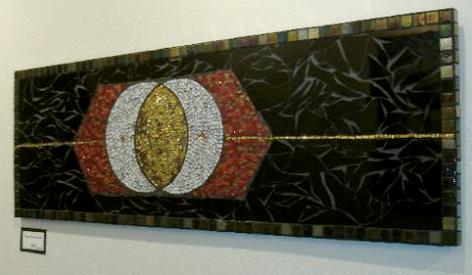 "Deco Panel"
Stained Glass on desk piece.
15″ x 43.5″
I mostly use stained glass in my projects and the bases for my projects are often of recycled items such as, broken down cabinet pieces, scrap wood, discarded tables, bowling balls and have even tiled shoes and tennis balls. When I find an object of interest, it seems to take on its own persona. It is interesting for me to see what I can find next and where it will take my imagination.~Cara Rider
Cara, thanks for showing your work, and I am sure your intricate and awesome glass art designs will inspire others with new ideas. I like your use of recycled things in this example. I always suggested to others to use scrap glass to practice my etching hobby also. Its a cool way to recycle glass and make something awesome out of it. Thanks again Cara! You can see Cara and her other glass art pieces at her website Cara Rider's Glass.
As always everyone, leave her a comment below and hit the Facebook Like button 🙂
---
Share this on social media or email by clicking below!