Before I showed you a simple way to personalize glasses which can make a nice gift for someone by etching a glass candle (link).  In that post, I explained some tips to help make your etching stand out and be noticed.  One tip is to engrave deeper, and another is to use only darker candles. A darker candle can either have a darker candle wax or a dark colored glass.  It doesn't matter as long as the background is dark because it will help the white, frosty etching pop out.  Also, some supplies (link) will provide you with paint to rub on over the frosted area.  Some kits have it and others don't.
In this post, I wanted to show you an example of what I am talking about, and show how bad it really looks when you etch on a lighter colored candle.  To show you what this looks like, see the provided example below. The color of the candle is a creamy or off-white and a design is etched on the front of it.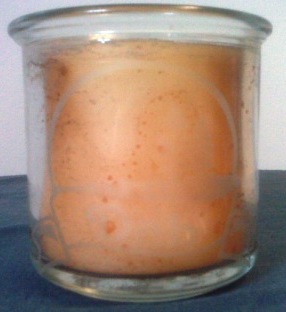 Doesn't look too good, does it?  I hope these tips help you etch better items!
---
Share this on social media or email by clicking below!