I have built my own sandblaster in the past, and if you are mechanically inclined, you may want to because it really isn't very hard. As long as you have a welder, a metal cutting saw, and other basic tools, you can make one yourself.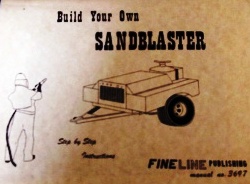 In the past, I always told people that I wouldn't consider making your own when there are many inexpensive sources such as Harbor Freight as I mentioned in the Glass Etching Secrets manual. After I made my own, I quickly changed my mind because the good thing is you can make them exactly how you want them.
If you want to get into a huge sand blaster for starting a sand blasting or sand carving glass business, they can get very expensive in larger scales. So making a larger sandblaster would drastically lower your start up costs.
So I wanted to make this post to talk about a book that I found which shows you how to build your own large sandblaster. It's called Build Your Own Sandblaster, and if you find one in your library, you might want to check it out. I included a cover of what it looks like above.
I also wrote an instructions on making a smaller one on my other website, so if your interested in this leave a comment. Or ask me any questions below. Thanks
Update: My plans are now included in the member's area here.
---
Share this on social media or email by clicking below!