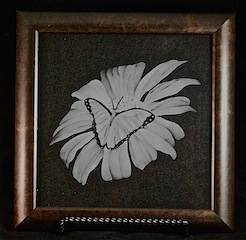 I took the photograph  and using Adobe Illustrator vectored the image. Using this vectored image I hand traced it onto the resist material to be applied to the glass. Carefully I hand cut each piece and then numbered each piece in the order I would be pulling them off. From there it was just a matter of using a blasting pressure of around 15 to 20 pounds and shading each pull to the desired look. Looking closely at the butterfly you will see the tiny dots on the outer edge of the wings. To get this I simply got my hand engraver and placed the dots where needed.

More from Google:
---
<< How To Share Your Glass Etchings & Build Profile MicroMotor Engraved Birds by William >>
You can leave a response below.