Someone recently came to me and wanted a personalized champagne bottle gift for a friend who was had a baby.  The design was simple as it showed a stork carrying a baby on one side with an arrow pointing to the city of birth and the other side had the date & name of the child as seen below.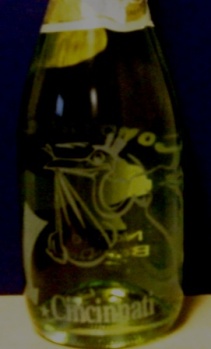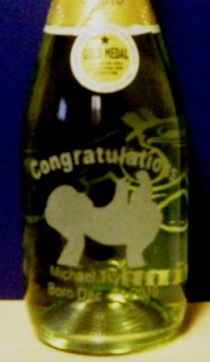 The only bad thing about this champagne bottle etching is the glass wasn't dark enough for the frosted parts to stand out.  As you can see, it is hard to see because the glass is clear and the champagne is light in color. Since etchings become white in color, its best to do it on a darker background. So be sure to keep this tip in mind: if the glass itself isn't darker, then I recommend to at least work with a bottle that has a darker wine.
I talk about this a little in another past bad example of working on background colors, and our past subscriber submitted a great engraving example of how the art sticks out with a dark background.
Another good tip is if you have to etch a clear piece of glass and want it to stand out better without a darker background, using sandcarving techniques listed in my membership area will definitely make it stand out because of the depth.
---
Share this on social media or email by clicking below!