I hope everyone had a great Christmas, and I wanted to share some of the beer mugs that were etched for a family member that I recently discussed about.  You can see in the photo, my etched glass Cincinnati Reds logo on a beer mug for a basement bar.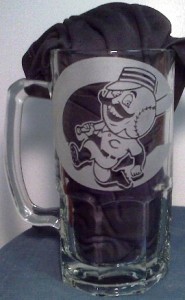 This can be done from various techniques that were briefly discussed.  There are many different ways, but sandblasting the glass is by far, my favorite method.  You can read more about it the sandblasting glass process here: www.glassetchingsecrets.com/glasssandblasting.html.  If you're new to etching or engraving, whether it's glass, metal, wood, or stone, you will see the cool things that you can do.  And I forgot to tell you, the hobby can be very addicting.
---
Share this on social media or email by clicking below!