If you don't already know, you can use sand carving techniques (see more info about that subject here) to engrave into coffee mugs that have a colored outside coating with a white inside.  This creates a unique contrast in color with the sandcarved areas on the coffee mug.  I will be discussing more about that in my membership club with tutorials, videos, and a bunch of other downloadable information.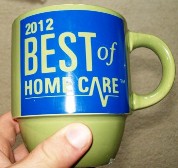 In addition to that, one of my subscriber asked a good question about this process when using a coffee mug and sealing it up as shown below:
One of my subscribers asks:  I sandblasted a porcelain coffee mug. Will the blasted area need to be sealed?
My response:
It doesn't absolutely need a sealer, but it may be a good idea to prevent discoloration if it somehow gets coffee or other dark drinks on the outside.

I would think that if you didn't use a sealer and got coffee on it, as long as you wash it off within an hour, it would be okay. Also, if you do get coffee on the sandcarved areas and they end up staining, using a strong soap or bleach would probably clean those stains right up.
I hope this helps.  Please leave a comment below if it did or ask me a question.
---
Share this on social media or email by clicking below!