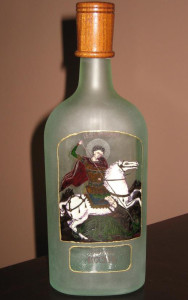 Here is the first featured glass artist of 2015! This marvelous artistic glass bottle was completed by Radivoj Jovanov. He states that it is a special technique through the combination of glass carving, sand blasting and painting (with colors for metal). He provided the following images and the steps he takes to complete this below.
I think this is unique technique because it is a combination of few techniques:
Sandblasting body of the bottle to make it's shape more visible. I leave window for carving (protecting from sandblasting by the label). Sandblasting of the other side of the bottle also make the back of the window/picture non-transparent. This make the picture more exposed and gives additional dimension to composition.
Carving the motive – carving lines, grinding shadows,… (by Power Carver and Proxon carving machines, using dentist diamonds and grinders)
Filling carved lines and shadows with felt pen
Applying paint for metal on motive
Drying the paint
Carving additional details (mostly white/cloudy, mistic). Motives like clouds, halo around saints head, eyes, Sun rays, Moon, letters…
Window is edged with the gold/silver contour color for glass
Every bottle is unique and can be personalized by the request.
This bottle on the photo is old more than 10 years and colors are still looking good. Those bottles are used for rakia (Serbian Whiskey) during the celebration of the family "SLAVA." In Orthodox Faith, every family has his own saint – protector. Every year on a certain date, by the Christian Calendar, every family celebrating his Saint in house of the oldest family man. This is the greatest family and family friends gathering during the year.
---
Share this on social media or email by clicking below!