Hi,
I bought your book…awesome, lots of great tips and pointers. I looked for a Creation Pcut vinyl cutter on eBay…The only ones I found were in the UK. Great prices but I am wondering if these are the real creations. The one I looked at was called "Creation Pcut model #CTO730..28 inch". Is this a real creation or a knock off?
Thanks
Steve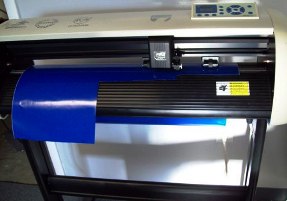 Hi Steve, thanks for your purchase.

I looked it up and I haven't seen Creations look like that before, but the manufacturers are always changing models through time so it might be the newer ones. I included a picture of what my Pcut looks like the above picture. It was purchased in 2008 if I remember correctly.

When I looked at the one you are talking about, the box shows the Creation brand name, so I would assume it is not a knock off. If it is a knock off, you can file a complaint on eBay and do a return. Check the sellers feedback also.

If you're in the US, I'd suggest checking back every once in a while because the company lists them every once in a while on eBay. The seller is USCutter.

Hope that helps.
---
Share this on social media or email by clicking below!