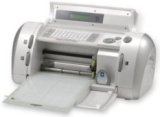 I bought your book. Luckily, I have a Harbor Freight nearby! One of the bummers about your tips was about cutting designs out by hand. Wouldn't you say that one of those "Cricut" machines that scrapbookers use work for patterns? You load vinyl in the machine and it will cut out fairly intricate designs. They cost around $300, but you can get them on eBay for a little less. Just thinking of going that direction.
I was looking at SCM and their photo stencil maker, but it is $700. Although you can turn any photo (just about) into a stencil. What are your thoughts on this? I don't see alot of people into this etching hobby, except the Armour cream users. It is nice to find someone like you! All I have so far is a compressor! Debating what exactly to buy. I am willing to spend about $800 overall. What is your best suggestion for equipment with that budget? Hope to hear from you!
Hi, first of all- thanks for your purchase!

I wasn't excited about the Cricut because they originally only cut out designs from a cartridge that you had to buy. From what I remember, the designs were fairly simplistic, but that might have changed recently.

I do remember seeing some kind of plugin that would allow the machine to accept any type of pattern. Most people, including myself, wanted a machine that would cut out any type of logo. So it might be able to do this now, but I haven't looked into it too much.

Also, I am not sure if you're sandblasting or using acid cream, but the other issue with the Cricut is it may not be able to cut thick enough vinyl stencils for deeper sandblastings. If you're only using this type of cream, then you shouldn't have a problem.

I have heard some bad things about SCM with customer support & having high prices. In fact, the high prices is what lead me to writing the ebook. These places have some cheaper photoresist packages: Rayzist & Ikonics imaging. If you wanted to save more, you could just buy the photoresist film and transparent film sheets. And then I suggest you buy & rig up your own UV light from a hardware store which is much cheaper.

Also, since you only have an air compressor and want to do smaller light work you can try using these mini sandblaster that I wrote on my blog.

Thanks and I hope this helps.
-Eric
---
Share this on social media or email by clicking below!