This is one of my favorite, featured glass etchers I've seen lately. She provided a great explanation and goes into great detail to etch photos for clients. She provided the below. Love it! (Click on any of the photos for an enlarged view)


My name is Schelesia Mangus. I am the owner, designer and curator of Unique Beaded Gifts and Aquarium Chest Builders. My husband and I have been creating things together for 31 years now and I have been etching glass and mirrors since the 6th grade in school which is going on 40 years ago now. My art teacher, Mrs. Hooker at Madison Middle School taught this mirror etching craft using Etching Crème to our class that year and I began to create small things to give away as gifts. Over the years I have expanded my art to Store Fronts, Giant Mirrors for behind the counter in stores, china cabinet doors, as well as etched mirrors for wall hangings. I also create many other things that I sell locally and online.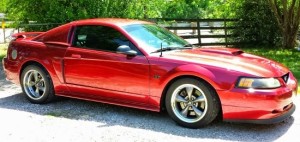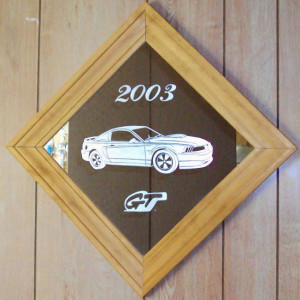 When creating etched mirrors, I use the Etching Crème Technique, I prefer the brand Armour Etch Crème for most of my projects. For Custom Orders I first start with a photo or picture of what the person wants to be etched on the mirror, in this example I am etching a custom show car for a client. The car is a Red 2003 Mustang GT. I had the client send me a photograph which I then drew freehand the car itself in pencil which allows me to decide what areas I will etch and what areas I will leave mirror (as shown below).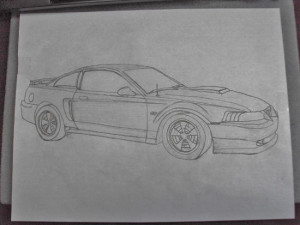 I then take the drawing and lettering if it has any and lay it out on the mirror and photograph it for approval from the client. In this case there were 2 layout styles, Square or Diamond shaped once framed. This Client chose the Diamond Shape (as shown below on the right). Once the client approves the layout I can then begin.
At this point I will cover the mirror with Tacky Back paper Contact brand is the best in my opinion and I use white or clear depending on the project. In this case I used white Contact Paper. I then transfer my drawing to the actual Contact Paper and begin cutting out the areas that I want to have etched. I always send a photo to the client on a custom order job once the cutting is completed for one more final approval before I apply the Chemical Etching Crème. (see photo below)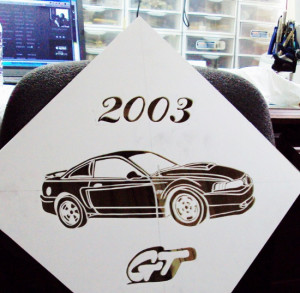 Once the client approves the final cut piece I will then apply the Etching Crème and complete the etching process, then remove all of the Contact Paper. (see photo below)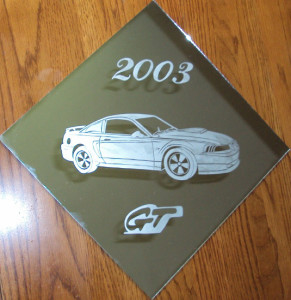 I will then send a photograph to the client for approval of the etched piece and once the client's approval is received I will custom frame it (photo shown at top of article) in our woodshop where we build custom aquarium treasure chest stands.
I have had many clients order an aquarium stand and then request that I etch the glass of the aquarium. Etching Glass and Mirrors is a very relaxing process to me, the ideas are endless as every layout can be cut in several ways giving a different look to each piece of glass or mirror. I create many pieces over and over but there are never 2 exactly the same as I make sure that I change at least one thing on each mirror to make it a One of a Kind. I pride myself in craftsmanship and accuracy of depicting exactly what the client is looking for when they place their custom orders.
Thank you for spending time with me today. I enjoy sharing my craft and expertise and look forward to hearing your comments and suggestions as I am always looking for new ways to expand my craft.
Shelley Mangus
---
Share this on social media or email by clicking below!