Design patterns used for etching vary in styles.  One cool type of design is using decoration patterns such as the one shown in the photograph with glass sandblasting methods (link).
Even if it's not artwork that you drew, the designs can produce elegant etchings with a complex flow of lines.  I made a mistake cutting out the stencil so you can't see all of its details that it originally had.  Since the design was small and close together, the stencil didn't cut perfectly, so I just took parts out and went from there.
For complex decoration designs like the one seen, it might be best to use a photoresist stencil (link).  But if the complex design is used on a larger scale then you could obviously use a vinyl cutter without any problem.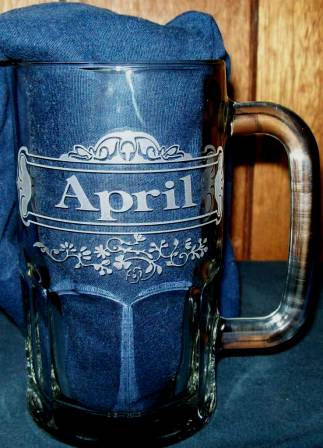 I thought this was kind of neat because it was different.  What I did was use a decorative drawing out of a stencil book and typed the persons name inside the open area.  Then I added a floral design below that to add more flavor and style to the glass.  There are stencils and clipart books out there that have plenty of decoration designs that look fairly artistic.  I will be making a list of sources soon and let everyone know.
So what did you think? Do you have any comments, questions, or tips?  Then leave them below.
---
Share this on social media or email by clicking below!