I have always been interested in these types of sandblasters, because the most annoying part of this hobby is when the dust and abrasive involved gets everywhere. I never liked the feeling of having abrasive on my skin & hair- plus all over my clothes.
I haven't used these vacuum on-site sandblasters, but recently I made my own and am selling them here. I figured a article would be beneficial to some people. Plus I'll show you an inexpensive place to buy them below.
What Are They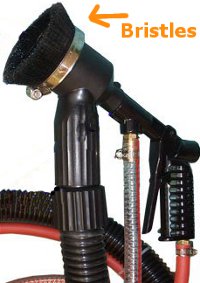 These type of blasters are used a lot by glass etchers that have to visit someones home to etch a panel/ window or if the glass doesn't fit inside a sandblasting cabinet. I talked a lot about the different options in my membership area (sorry- full article for members only), but haven't really discussed these on-site blasters yet. These are basically regular siphon sandblasters with a small vacuum mounted to the top. I previously thought these units where pressure pots, but Lee Nancy told me from our Facebook page that all of one she's seen where siphons. Also, by observing the head of this vacuum blaster, you can see that she was correct.
Basically, a hose connects to the nozzle area so it vacuums all the abrasive & dust after it hits the glass. Then it's dropped back into the abrasive holding tank. The head of the nozzle is interesting because it is made of brush type bristles that surround the tip in a circular fashion. I have thought about making ones of these before because they are kind of expensive, but I recently found an inexpensive one that I wanted to share.
Inexpensive On-Site Vacuum Blaster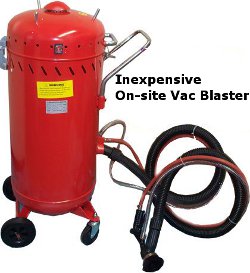 The photo shows the inexpensive on-site blaster that I found on Amazon for $299.99. You can visit the link here to see all the pictures of it. I am certain this is one of those cheap Chinese type blasters that is manufactured from the same company that Harbor Freight supplies their stores with. I saw this same one on their website awhile back, but believe they stopped selling it. So the link above is the only place I have seen them.
Quality Glastar Version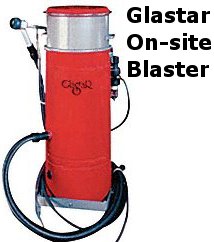 If you don't want to deal with the cheaper type of equipment, a company called Glastar also makes these types of blasters but are better quality. The picture to the left shows their 36000 Portable sandblaster which you can also buy on Amazon here. It sells for over $1,700 !
Lately, I found another brand by Uni-Ram here which seems to be of similar quality and slightly lower in price for about $1,600.
I hope this information is helpful and maybe it will save you some money. Has anyone had experience with these? If you have one of these units, leave a comment below. Or feel free to ask a question. Thanks
---
Share this on social media or email by clicking below!