Whether it's hiking or going off-roading, the outdoors have always been an interest of mine, and sometimes I etch interesting items such as this dirt bike. So the point of this post is critique an example that used a two stage glass sandcarving. It had some problems with the vinyl stencil as discussed here, but since this was scrap glass, it didn't matter anyway.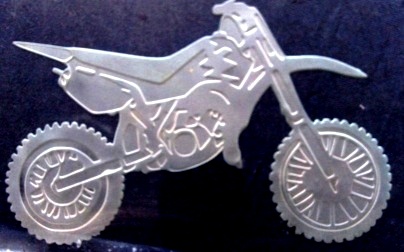 Just like this other simple two-stage sandcarving, I carved the first layered step deeply and then lightly frosted the second step.  If you haven't already noticed, the rear wheel is out of alignment!  The top area of the rim is larger than the bottom.  This is due to the vinyl cutter slipping when it was cutting the stencil which leads me to a simple suggestion.
Make sure you watch your vinyl cutter when it's in operation.  Sometimes mine will get jammed, so be sure to monitor it if you use one.
---
Share this on social media or email by clicking below!