Since I am a Bengals fan, even after the horrible game they played last week against the Jets!  I thought I'd share a simple etching of the Cincinnati Bengals logo on a beer mug.  You can do this with almost any NFL or sports team that you like.  It can be a great gift idea.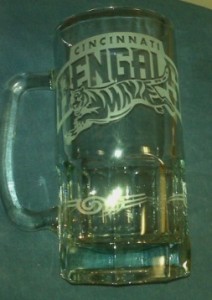 For this etching, I used a vector graphic from the thousands of choices to pick from the resources I show in the information manual of Glass Etching Secrets (www.glassetchingsecrets.com/info.html).  They're part of a bonus right now, and most likely have all the NFL football team logos.  There are a lot of college and car logos also.
I figured sharing this would get the creative juices moving through your head, so you can see all the different themes you can etch.
If you have a idea or a cool item you etched, leave me a comment. I just opened up a section where people can share their work as of 2012 (www.glassetchingsecrets.com/blog/how-to-share-and-build-profile/).  Also, if anyone is interested in writing about engraving, let me know.
---
Share this on social media or email by clicking below!