After my last LED post, Ernie Robinson shared an interesting example that he lit up with the use of these light emitting diodes. I asked him if he would be interested in sharing it with others on the blog, which he agreed.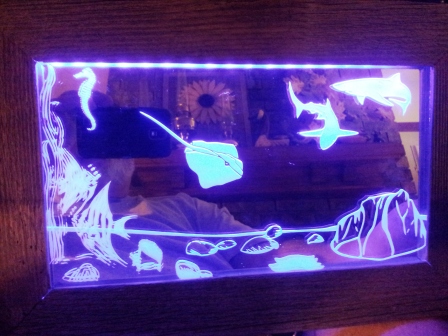 But as you can see, this LED glass was etched on a mirror. He said it's a 1/4″ mirror and is etched from the back where the silver plated side's located. Of course, you would need to use a sandblaster to do this. I did make a post awhile ago about removing silver backing without a sandblaster, which you might want to check out if you don't have a sandblaster.
I really like the cool blue LED with a view of ocean life. It looks as if you are looking inside a saltwater fish tank with the frame.  I've etched simple mirrors in the past, but never added LED's them to the backside. Very cool!
I hope you enjoyed this idea, and it would be great to thank Ernie for sharing in the comment below. Thanks for sharing Ernie!
---
Share this on social media or email by clicking below!