There are lots of cheap glass items that you can start etching for inexpensive but great personalized gifts.  The suggestion I have today is to use candles. Giving away candles personalized with a person's name or birthday on it can be a unique gift.  Its different than most typical gifts and can be very meaningful, while being cost effective.  You can grab a large candle at a store for under a few dollars with a glass container.  All you would have to do is etch the outside of the container, and it could be done with simple supplies (www.glassetchingsecrets.com/supplies.html) using brushes and creme.  Below shows you a small glass candle etched with a floral design.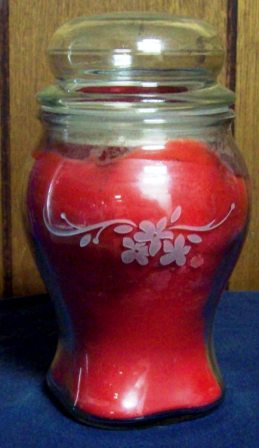 Sometimes its hard to see the etching on the glass candle.  My suggestion is to pick a dark colored candle such as the red one above.  If you etch on a white or light colored candle, it will not be seen easily because the frosted part will blend in with the white colored background of the candle.
---
Share this on social media or email by clicking below!