Merry Christmas and happy holidays everyone!  I hope everyone is enjoying the holiday and relaxing.  I particularly enjoy this holiday, and it is a great time to give out presents and show people that you care.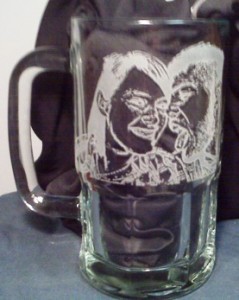 I personally think that one of the best things to give for a Christmas gift is something from the heart which is more meaningful in my opinion.  Creating etched glass gifts is one great gift idea to give people. If you personally etched it, that shows you put even more heart into it.  I recently created a glass that was etched with a couples photos.  This time I didn't use a halftone photo resist image.  I tried something different from the free software I show you in Glass Etching Secrets (www.glassetchingsecrets.com/info.html).  I used a different technique called the "cartoon settings".  It makes lines of peoples faces in black and white.  Then, I just used a photoresist to make a stencil.
As you can see from the photo, the image is etched on a glass mugs.  I tend to etch a lot of these for people and it's very cheap to do when you use low cost mugs.  Like I said, it's a great gift to give whether for Christmas, but can be used for any other holiday, because it was from the heart.  It shows your creativity and that you thought about them.  You can see these mugs and gifts here for more examples (www.glassetchingsecrets.com/etched_glass.html).  These are really cool, fun to do, very inexpensive, while being a very thoughtful gift.  Then, the fact that it's engraved and personalized just for them can mean the most for someone.  It's a really cool gift idea.
---
Share this on social media or email by clicking below!