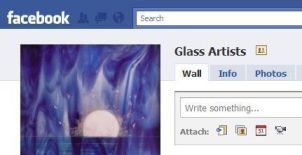 Okay, a little while ago, I started allowing people to make guest posts on this blog every once in awhile and I have realized how much it helped them so over at the Glass Artist Facebook Group, Matt and I have decided to feature an artist or two each week.
Before, I asked everyone to make a post in the discussion board on the group about their glass art and the response was great, but the posts were all over the place.  It was hard to reply to someone's comment in the discussion board and be noticed.
So this new featured writeup would allow each member to be the center of the spotlight each week and get more exposure to their work. Some people put a lot of time and creative effort into their glass art without being noticed or appreciated, so this will be very interesting.
Also, this is a team effort because each week everyone can do two things to help the current spotlight member which is to hit the like button and leave a comment.
So to get started, select a picture of a great glass art piece or two and write about it.  Include information about your glass art such as:
Your name

Your Glass Art

How you did it

How you can do it

What processes were used

How big it is

Or anything that would help others
I think this will be very cool and very helpful.  If you know how to use WordPress, you can register here and begin typing up your spotlight post.  If you are unfamiliar with WordPress, then email me photos and information about your glass art to eric at glassetchingsecrets.com.
So to get this thing started, please leave some comments below with suggestions to make it better or what you think about it.  AND hit the LIKE button below to Kick Start this thing!
---
Share this on social media or email by clicking below!