If you are unfamiliar with Glastar, it is another quality brand of sandblasting systems typically used for the etching and sandcarving industry. They provide everything from sandblasters, nozzles to dust collectors. Although I haven't tested out this equipment, it appears to be of high quality.  This setup with the plotter costs about $7,500 new which can be expensive for a newbie. If you'd like to learn how to get set up inexpensively with decent equipment, I suggest you read my ebook.
Note: Originally this post was a classified ad that someone emailed me and asked if I would post it. I took his information down about the items for sale after I learned that it may have been stolen, so now this post is changed to reflect more of an informational post about Glastar and the set up that was used.
Here are the pictures he shared of their Glastar system which lists the sandblaster setup & plotter.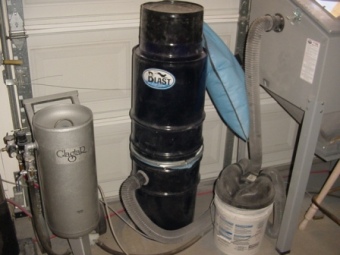 In the first photo, you can see the sandblaster called the Glastar 2533 system. To the right of that you can see the dust collector which has a HEPA filter & 3 way filtering system. After that, the hose connects it to what is known as a abrasive separator or reclaimer which is simply a bucket with lid designed to capture the reusable abrasive before it hits the dust collector. This also prolongs the life of the dust collector & filter it has.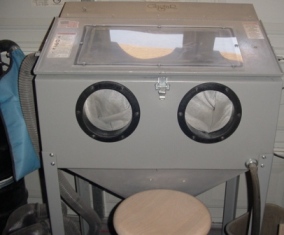 At the other end, an additional hose connects to the cabinet which is 24″ x 32″ and opens from the top. You can see a better view of this in the photo.
He also used a 24″ plotter to cut stencils by a company called Sign Warehouse. He used vector graphics from CD's which consisted of wildlife, graphic arts, etc.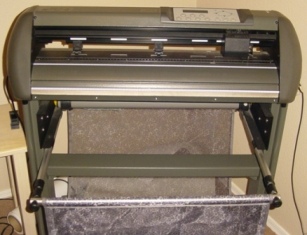 If you have any questions about this type of equipment or have a review, please post it in the comment below.
---
Share this on social media or email by clicking below!