I am pleased to feature our third subscriber. In this post, Mark T. sent over an excellent picture of a mirror he engraved of a wolf. The detail in this engraving is amazing. Just click on the picture to see a close up view of the detail. Mark provided the following details about his work. Very interesting!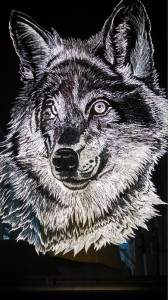 I've developed a technique that is a combination of glass engraving and lighted sign production. I've been an artist / sign painter / craftsman my entire career. ( 36 years ) I really enjoy the glass engraving. It may actually shock you to know that the wolf mirror is my very first attempt at this new technique. Based on the outcome, I'd say it works just fine. I've applied for a utility patent on this process, whether or not I am granted this patent remains up to the patent office. I am also applying for a Trademark. Also note that this process can be done in full color images also. I'm going to engrave a TIGER in the jungle next. I will also be including a new trick that will actually make it seem 3-D ! I can't wait to show you the results. I need to get a video camera or a web camera to film the process, I will send you a copy of the video when completed.
---
Share this on social media or email by clicking below!