My hand won't fit in that small hole
"So I blew it!"
This helpful tutorial and creative idea was submitted to the blog by Jon Mallory. What an awesome idea to allow you to place patterns/images inside hard to get areas of a glass for engraving! Please read Jon's tutorial that he provided us below:
Many times we have a photo that we would like to engrave on a bottle but the neck of the bottle is too small to put the photo into the bottle by hand.
If you have a photo to put into a long neck or funny shaped, small neck bottle, this is how you can do it.
1. Size your photo as if you are going to reach into the bottle and secure it to be traced.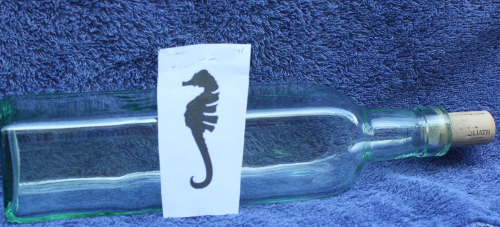 2. Find a tube that will fit the bottleneck loosely. Trim the photo to make it slide into the neck easily. You will have to roll the photo to make it fit.


3. Tape a piece of paper, about 1/2 inch wide, to the top center of the photo that is long enough to position the photo where you want it to be for engraving. Make the paper long enough that you can tape it to the outer edge to the bottleneck when you have it located where you want it.


4. Roll the photo, "image out", so you can see the photo and so it fits in the neck without damaging your photo or the paper tab. Locate the photo where you would like it to be when it is engraved.
5. Take your loose fitting tube. With electrical tape, attach a balloon to the end that enters the bottle. Make your tube long enough that it will enable you to reach the bottom of the bottle. Your tube must be small enough to allow the balloon and tape easy access inside and to allow the air being replaced by the inflating balloon to escape. Slide the balloon and tube into and behind just beyond the middle of the photo. The balloon must be located beyond the bottleneck so as not to restrict the balloon while it is inflating. This will assure that the photo is tight against the bottle.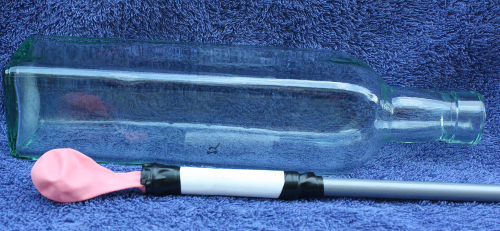 6. Gently inflate the balloon. You may have to remove the air and move the photo, or balloon, if it moves! When the photo is in position and has enough of the balloon in position against the photo to hold the photo in place, twist the tube to lock the air in. You can tape the tube in place if you want to be sure it won't deflate. Engrave and untwist the tube and you are done!


---
Share this on social media or email by clicking below!