Now SOLD! Note: this is one of my newsletter subscribers that asked me to post a classified ad. As always, I was happy to help get another person into etching. See her description below. Click on the images to see a large view of the system. -Eric
I am moving out of state and will be selling all of my SCM equipment which is in very good condition. I live near Clarkston, Michigan and would prefer to have the equipment picked up or I could possibly meet the buyer within a reasonable distance.
This is the SCM "Jet Stream One" system and includes everything shown in these photos and also listed below. I am asking $1100 cash.
SCM / JET STREAM ONE SYSTEM –

$1100
JET STREAM PORTABLE SANDBLASTING EQUIPMENT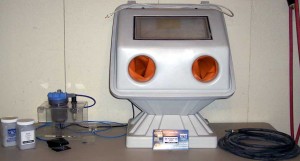 Jet Stream Portable Cabinet
You can stand or sit comfortable with the Jet Stream cabinet. This cabinet is large enough to for production and small enough to be portable. This lightweight, yet strong, portable cabinet contains the dust while sandblasting. The cabinet has a large sandblasting area. It comes with a pair of durable rubber gloves to comfortably control the objects being sandblasted. The cabinet contains a large viewing window. Unit comes with fluorescent lighting. The Jet Stream Blaster cabinet opens at the front to make it easier to remove and add items. The cabinet is made of a HDPE material to eliminate rusting that occurs from other metal cabinets.
Inside work space: 24″ x 17″ x 17″
Blaster Pen

A lightweight, easy to control, sandblasting pen.

Tungsten-Carbide Blasting Nozzle

Two premium, long-lasting quick release carbide sandblasting tips are included. One .060 round for general work and one calligraphy writing tip.

Complete Pressure Pot Assembly

The pressure pot holds 5 pounds of aluminum oxide. Easy top fill. Unit has a self-contained regulator to adjust your sandcarving pressure (10-55 psi).

Automatic Moisture Trap

This removes unwanted moisture from your airline automatically.

Foot Control
Instructional Operations Manual
Instructional Videos

System set up and maintenance with sandcarving techniques.

Hoses
PHOTO IMAGE STENCILING SYSTEM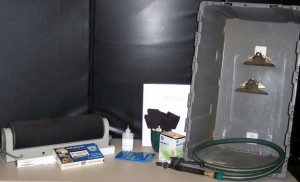 Photo Image Exposure System
Photo Image Instructions
Complete Video Training
Art Library
Trigger Jet Sprayer
Washout Cabinet
Partial Pack of Vellum
Spare Bulb For Exposure System
Assorted Small Pieces of 5mil Film
Partial Bottle of Application Adhesive

You will need to purchase new application adhesive and film from SCM
If you are interested please contact me at:
This system is now sold, but please see and contact here at her other listing here.
Thank you,
Debi
---
Share this on social media or email by clicking below!