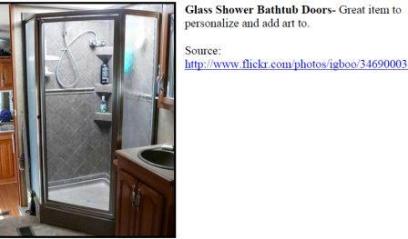 In my personal opinion, one of the most interesting items that I see etched is shower glass panels and other large decorative glass objects. It really adds some elegance to a bathroom or blank storefront glass sheet.
This is done to add privacy, reduce sunlight, or to just etch a logo while adding some class to a blank sheet.
I often get asked about the best way to etch these and if etching cream can be used.
Etching Cream on Large Glass
The first thing I would suggest is to not use the etching cream for shower glass projects nor any large projects. Etching cream isn't known to do a good job on large surfaces because there can be inconsistencies. It can produce blotches and end up being a mess. Even more so, most large glass items like this can be expensive, so you don't want to mess them up!
If you wanted to, you could test out the etching cream and sandblast over the cream etched area later if it looked poor.
This leads me to my next suggestion.
Sandblasting on Large Glass
Sandblasting is probably the best route to take which will provide a quality finish. You don't want to carve it too deep though because shower glass is tempered. It can shatter if engraved too deep. If you don't have a sandblaster, you might be able to find people that do it in your local area. I would call them up and have them do it.
Update: I have always said that even if you lightly etch in temper glass, it can still break in the future if it's a large surface area and/ or is prone to a lot of stress or vibrations.
Many years ago I sandblasted my rear truck window lightly below the surface as shown here and it has never had problems thought. So just be mindful of how large the glass sheet is and how much stress it will receive.
Anyway, to get back to tips on sandblasting large glass; if you can't or don't want to remove the glass panel from a shower and are doing it yourself, you can get these on-site sandblasters to provide a dust-free sandblasting. Or check out my conversion kit to attach to your sandblaster. You can make these.
Other Options
You can also use hydrofluoric acid, but this is so dangerous that I barely get into discussing it much. The other option is to just use privacy frosting film which is sold in some sort of vinyl form with adhesive backing. This is obviously a less elegant option and may be prone to peeling in the future.
I hope that helps. If you have any questions or suggestions, leave a comment below.
---
Share this on social media or email by clicking below!