I wanted to share another idea to help you enhance your etched glass. A few people are familiar with this topic, but some aren't, so I figured I would share the idea of using LED lights to help light up the etching.
Currently, I am working on putting together a tutorial in my members only area showing people how to make inexpensive LED lights and use them to light up your work. Maybe I will post it here also, if people are interested.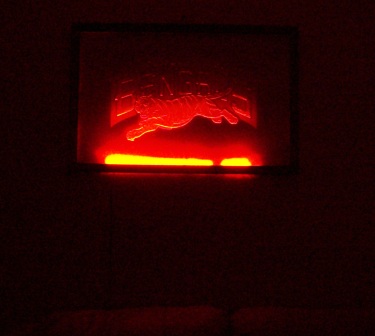 Using LED lights can really make your art pop out! This can be used with the acid cream or sand carving. It looks the coolest when lighting up multi-stage sand carvings though because the light exposes all the layers better.
You can see one of my examples above with the LED added to the sand carving. I like it but there are many problems with this as you can see.
So here are some of the problems and how you can fix this:
The first problem is the LED doesn't light up the whole etching very evenly. The reason is because it is a large sheet to cover and the glass has a green tint to it when looking at it from the side. There are clearer forms of glass such as acrylic and crystal glass available, but they are expensive. I could also place a LED strip at the top.
The light is noticeable at the bottom and doesn't look uniform. You can place led strips all around the edges so there is an orange glow outline.
The sand carving is not as noticeable as it should be. The reason for this is because I didn't include a background on the glass. Since I have light colored walls, it would be a good idea to add a dark background such as gray, black, or a darker shade of any color. I will eventually do this.
Dang! There are 2 LED's that aren't working as you can see. More fixing that I have to do.
I hope you enjoyed my updates and the idea of using LED lights, along with the included tips when using them on larger pieces of glass.
Please leave any comments below. Soon I will be allowing people to create their own blog on here and share pictures of their own projects. Anyone interested?
---
Share this on social media or email by clicking below!