Awhile ago I told you that using colored glass was a good technique to help your etchings stand out better.  It primarily helps the white frosted areas stick out visually because of the darker glass background.  Another way to explain it; a similar looking color placed over another tends to blend with each other such as the typical frosted etching on clear glass.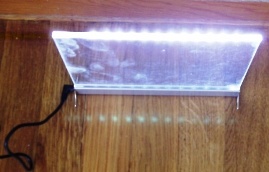 Now, I want to tell you that there are some better, intriguing ways to make etched glass more elegantly beautiful and visually obvious to the eye.  This display model is known as using LED lights to light up the internal parts of the glass. You can see what one looks like light up on the left.
A LED is an acronym for "light emitting diode" which is a very small but fairly powerful light that uses little electricity sources.  For these reasons, its purpose is to help highlight sandcarved etchings in the glass.  In order to enhance sandcarved artwork, the LED is placed on the edge of the glass, which is usually hidden by a wooden stand or frame.  This is the only way to transmit its light through the glass which is the best way to help highlight the etchings.  I will be showing some example of this when I get some pictures.
Update: Okay, I finally made a post about using the cool light emitting diode to enhance your work so you can see what I am talking about.  Also get more information about how to do this and where to get low cost LEDs in my membership area's latest module.
---
Share this on social media or email by clicking below!