I wanted to create this post to clear up some information that I placed on my site that is somewhat confusing, and explain another etching cream made by Martha Stewart Crafts.
In my free PDF ebook about cream and throughout other pages on this site, I have commented that all etching creams produce fairly similar results. What I meant by that, is just about all the etching creams produce similar results in terms of how much they stand out to become noticeable.
However, the overall finish of the results vary because some cream products are indeed more ideal for producing a consistent etch. The Armour Etch brand can have a rather grainy texture which can yield rough, blotchy etchings that are inconsistent.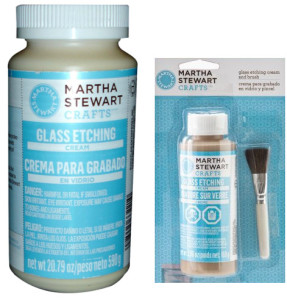 The better brands have a very smooth, consistent texture which spreads like mayonnaise. An email subscriber (Jay S.) mentioned this other brand to me as a quality, smooth spreading cream by Martha Stewart Crafts. Although I have never tested it, I assume it is similar to the Etchall brand I tested which is another smooth cream.
With that in mind, I posted different links on where to get the Martha Stewart Craft's etching cream below.
Since I have not tested it yet, I researched reviews online and found others saying good things about it due to its smooth consistency. If you have used it before, please let us know what you think about it in the comment section.
Thanks and sorry for any confusion.
---
Share this on social media or email by clicking below!