If you have heard some of the possibilities etching glass that I always talk about, here is one other idea for you.  You can etch glass mirrors as I have done in a example here, and it can be frosted from the front side or the backside.  Both solutions have a slightly different look.
I should also mention, that you can frost the glass on both sides by only using the sandblasting process.  If you chose to use creme, then you can only etch it from the front-side because it isn't strong enough to eat through the silver backing of the mirror.  Some mirrors have a tough silver back, while others can be scratched very easily.  But either way, they will not dissolve with the diluted craft acid cream.
Below is an mirror with a single stage etching from the front side of the glass.  It was for a friend's home basement bar of a Jagermeister logo.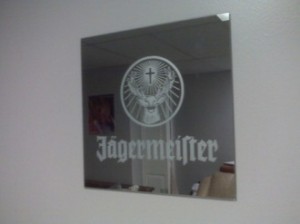 You can also etch the mirror from the front and back at the same time to give it a unique contrasting effect.  I offered to paint the frosted glass areas with a color to make it pop out a bit more, but he wanted to keep the frosted white look.
Update: I made a post about removing the silver backing from a mirror here.
---
Share this on social media or email by clicking below!