If you need to sandblast the same design over and over again, I strongly recommend that you make or buy a strong reusable stencil. Someone recently asked me, "I have a private label cosmetic line, and I would like to either paint or etch my company name or logo on some of our products. Please get back to me and let me know what I have to do to proceed."
My Response: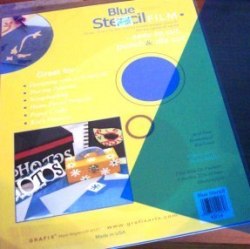 For projects like this, you should use a reusable stencil that can be used multiple times. You could use some of the etching stencil processes that I talk about here, but they would be a one time use. If you are producing a lot of products, there are ways to outsource it, as there are machines that will process all this inexpensively.
There are durable stencil films available such as the one I tried out (shown in the picture) which is made by Grafix, called "Blue Stencil Film".
On the other hand, instead making your own stencils, outsourcing it to a shop will professionally cut them out with a laser cutter. They can cut the stencil out of metal or heavy plastic which will allow it to be used multiple times.
You can either look around or try out this place that I stumbled on: stencilsonline.com/custom_stencils/
After buying a multi use stencil, you lightly sandblast the glass over the stencil. I have a bunch of tutorials in the links here.
Hope it helps.
---
Share this on social media or email by clicking below!