Hi everyone, I am glad to kick start the art glass spotlight which will be featuring a new glass artist each week. Our first spotlight post is from David Patchen. He provides two amazing examples of his blown glass art and the details he provided is below.  Each example is followed by a close up showing the details and amount of skilled techniques he uses.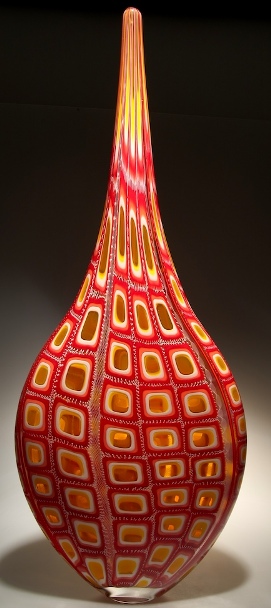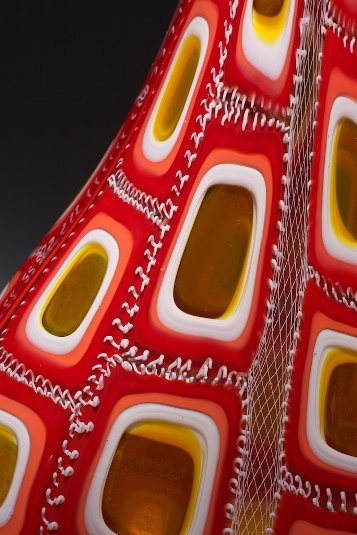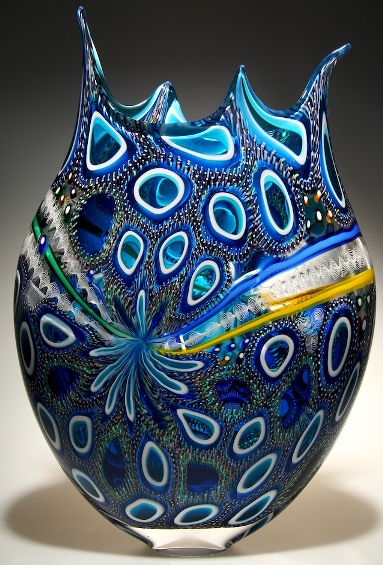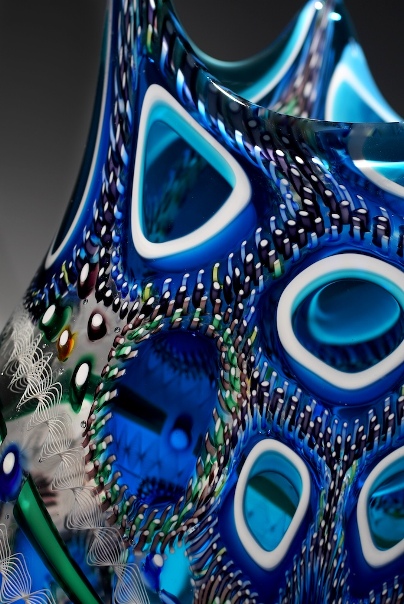 The photos show blown glass made using advanced Italian techniques of murrine (patterned tiles of glass) and cane (colored or patterned rods of glass). These techniques are very labor-intensive, but its the best way to create highly detailed patterns in blown glass.
A quick overview of the process: cane and murrine are made in the hot shop by layering colored glass and stretching it. Once cooled, cane and murrine are cut to size and arranged in the desired composition on a ceramic plate. This plate is then re-heated fusing the patterned glass together, which can then be rolled up onto the end of a blowpipe, encased in clear glass and blown to the desired shape. Some photos of this process are here: http://www.davidpatchen.com/content.php?sec=studio
The glass blown art work ranges in size depending on the series, but its often 18″ tall by 12″ wide and 4″ deep for the Foglio series, while the Resistenza series is 34″ tall by 12″ wide and 4″ deep.
Thank you so much David, not just for showing photos of your marvelous work, but also for details of what murrine and cane glass art is.  Its always interesting to learn all the different glass arts out there.
Everyone, please help David get more exposure to his glass art by hitting the Like button below. I think he deserves it. Let's try to give him at least 100 200 Likes!!!
Also, please leave comments below to show any compliments or ask him questions.
---
Share this on social media or email by clicking below!