If you're like me, you can never get enough patterns to use.  I like to have a large assortment of block patterns and line patterns, which are more commonly used for sandcarving.  I hope everyone used the patterns I sent out to you in the newsletter.  I know some are decent and others aren't the best.  So, now I want to know what kind of patterns everyone is looking for.
You can see the picture below to get an idea of what the difference is between a line pattern and a block pattern.  If you're totally new to using line patterns for sandcarving, I will have a quick tutorial for you as well.  Basically, the top pattern "flower 1" would be considered a line pattern and the bottom "heron" might be considered a block pattern.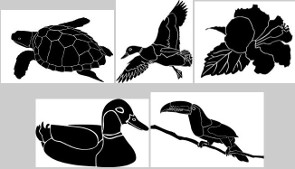 Please give me some feedback in the comments section below.  This allows me to gather a collection of ideas which would be listed in one area.  Also, my newsletter subscribers vary.  I know some of you work with etching cream and others work with glass sandblasting methods (http://www.glassetchingsecrets.com/glasssandblasting.html).  If you wouldn't mind, please tell me what might interest you so I can bring everyone more patterns based on different themes.
Also, I have provided a collection of a lot of other sources for more free in the information manual.
---
Share this on social media or email by clicking below!