I decided to post this project that I recently made for a friend to show you some of the possibilities of using a photoresist stencil. If you don't know about the photoresist, it's a light sensitive sheet of resist material used to create a stencil. A black pattern is placed over the photoresist and exposed to light. Then the blocked area or black pattern that we placed over the resist will be washed away and etched.
The huge benefit to using these is that it can be used for very fine details. In the photo below, I used one to create a stencil for a poem. The poem was 12 lines long with spaced paragraphs, and I did this for the glass that only gave me about 2.5 inches of room tall. This shows you how fine they can go, and it can do a lot more impressive things with half tones which I will discuss later.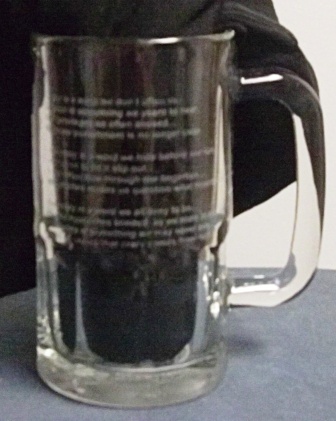 Most of the items that I etched were  done using the vinyl cutter, and they can create fairly fine details, as well. Just to show you that the vinyl cutter can do fine work as well, I etched the other side of the glass with a stencil made from my cutter. You can see that this isn't so bad either.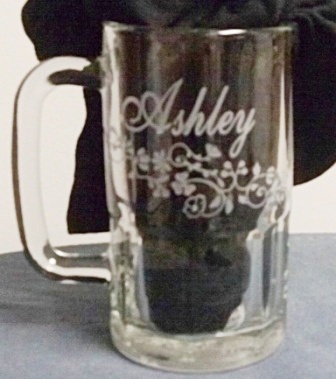 How fine your machine will cut depends on the cutter itself. I found out that my cutter worked best when cutting on thinner vinyl. Cutting some of the thicker resists with fine detail were a challenge at times.
So there you have it- If you have any questions or comments, please leave them below.
---
Share this on social media or email by clicking below!