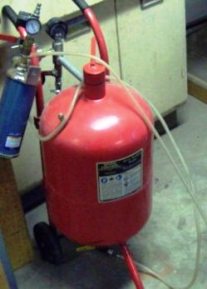 Hi Eric,
I was looking for a pressure pot blaster and saw something on harbor freight's website.
www.harborfreight.com/20-lb-capacity-pressurized-abrasive-blaster-40925.html
Is this what I can use to sandcarve into the glassware? Also, what is the best kind of media to use? What are your thoughts on a soda blasters on their website?
Thanks Eric
Stephen
Stephen,

Yes, that is the inexpensive option I have been recommending for sandcarving. For media, I recommend aluminum oxide or silicon carbide about 100-220 grit. My preference is 150 or 180 grit.

I haven't used their soda blasters, but I am sure they work just fine. What are you looking to use those for? They can't be used for etching or sandcarving.

I am sure you know that, but I just wanted to make sure, so you don't buy the wrong thing. Thanks!
---
Share this on social media or email by clicking below!