If you aren't aware, I have been wanting to make this blog a place for people to show off their etching or sandcarving type of work, so I have been allowing people to guest post here.  That way it can inspire us all, establish an updated source of great work, and get free exposure to your business.
So here is a guest post by Kyle Hunter Goodwin.  I have been looking at some of his sand carvings for awhile, and recently he was nice enough to share his amazing glass work.  He has to be one of the most artistic sandcarvers I have seen around.
It's a very impressive multi-stage glass sandcarving of a T-rex dinosaur and the details he shares are below:
Glass is 21″ wide and 3/8″ thick.
It's a hand drawn and hand cut design.
With a mix of multiple carving techniques as seen below.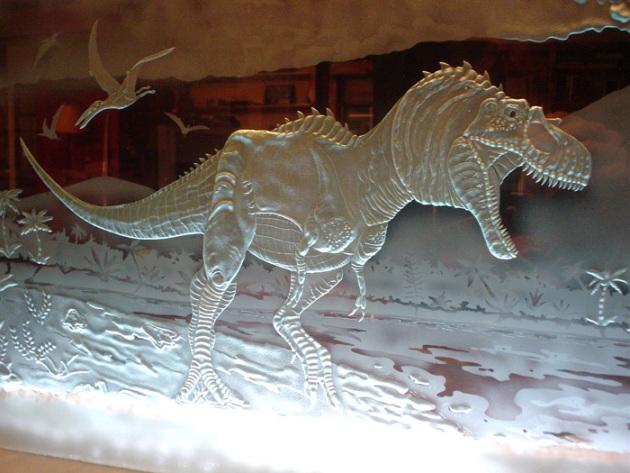 The detail and amount of work put into this is amazing.  He has a whole site dedicated to this type of work at Hunter Glass.  Check out his other excellent carvings. If you're looking for some art, give him a call.  You won't be disappointed, just check out his work.
Also, please leave Kyle comments, questions, or compliments below.  It would mean a lot and his work is amazing, so why wouldn't you!  Thanks a bunch Kyle.
---
Share this on social media or email by clicking below!