Eric,
I've been shopping around for what kind of photo resist film to get when I do my stencils. What do you recommend for me to buy? I want to do fairly detailed artwork and don't want to buy the additional darkening toner solution. I saw something called Rapidmask high detail which doesn't require washout or adhesive and does fine detail but costs a LOT!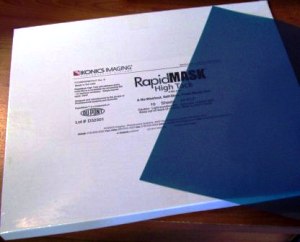 The main things I will be sandblasting is portrait style faces and other details on glass. Any suggestions?
Vivian
Hi Vivian, the darkener toner isn't required and is only needed for laser printing machines. If you use a laser printer, its probably a good idea to use the toner for high detail stencils. At first, I wasn't a fan of Ikonics Imaging's "no-washout" Rapidmask film because it was hard to know when it was fully exposed, but lately it has been working great for me.
---
Share this on social media or email by clicking below!