I recently got an email from another glass etcher named, Stan who has a fully functional sandblasting art studio at home.  As always, if someone has a question, others may have the same one, so I like to answer them here on this blog.  So here is my response and the questions asked.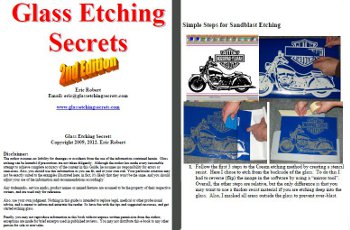 Norm Dobbins is a great blasting artist known throughout the world and it's sad that the world has lost such a great teacher willing to show others how to etch artistic glass.  I have read a few of his books, but some of them were a little outdated.  That is one reason I decided to create Glass Etching Secrets, because it explains the newer technology to create stencils while aiming to help people save money.
Most of the equipment and graphics software can be expensive, so I wanted to explain inexpensive ways that I personally use every time.  My information manual isn't in competition with the great Norm Dobbins products, but is a slightly different niche of a topic.  I truly admire Norm, his work, and his teaching materials, which I recommend to anyone.  My information is slightly different with a goal to help people save money with advanced processes.
Yes, to ensure a profitable business, you should cut your own stencils.  It's more cost effective that way, and it isn't really that hard to do once you use advanced stenciling equipment such as vinyl cutters and photoresist processes.  I explain both inside with ways to get the stuff cheaper.
You are right,  all good etchings begin with a quality vector artwork and the stencils themselves.  Corel Draw can take some time to learn how to use perfectly.  In a bonus, I show you how to get a vector graphic converter for free with step by step instructions of how to easily convert one free.
Also, I do show you some sources for free vector clipart, some good and others are okay to use.  Now, to answer some of your direct questions:
Does your e-commerce info product lay out stencil making cutting equipment to meet my needs? 
Does your product give concrete suggestions on which vinyl cutting equipment I could purchase?
Now, I don't lay out all the stencil cutting equipment that are available in the marketplace such as vinyl cutters, but I show you a few sources where and how to get one very cheap.  It's what I call my secrets, which some other people have said that the name has aggravated them.  Essentially, it's not a top notch secret or anything, and the ebook's title is just a name, but my so called "secrets" aren't explained to the majority of etchers or in other material.  So, that's why I called it that.
I can also direct you to other higher priced vinyl cutters if you are interested.  Just ask.  Vinyl cutting equipment is a serious investment, and that's why I wrote the information.  To figure out if the equipment will fit your needs, it depends on what the thickness of the vinyl your cutting.  I explain the maximum thickness that this cutter will cut.  Ultimately, you can just ask the vinyl cutter company what the maximum thickness the machine will cut.  But remember, it may cut at its maximum thickness, but usually won't cut smaller graphics as well at that thickness.
Is your e-book printable from the download?
Yes it is printable, but it's only about 100 pages so it could be read fairly quick from the monitor.  I recommend reading it off of the computer because it saves paper and was one of the reasons why it is down-loadable.  But it's your call.  Just make sure you save it to your computer for backup.  I hope this helps answer some questions and anyone can leave me a response/ questions below.
---
Share this on social media or email by clicking below!