I haven't written much about sandcarving things besides glass, so I figured I would start today. And if anyone wants to get recognized for their stone carving, let me know.  Since I haven't personally worked with much rock sandcarving, it would be great to hear from those that do work with it a lot.
If you don't already know, you can use your sandblaster to sandcarve other things such as stone, large rocks, wood, or even metal.  The photo below shows an example of a small stone carved with a pressure pot sandblaster.  You can find more info on my new page about this topic, which shows some additional examples on glass.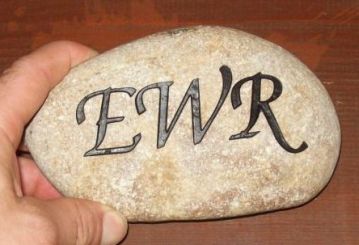 It's very simple actually.  All I did was cut out a stencil with my cutter, place it on the stone, mask the outside areas, and blast.  Then I used a black spray paint to highlight the carving.  You can experiment with different colors and try something unique like fluorescent colors.   Here is one tip to get the stencil to adhere better: Heat up the vinyl resist after you placed it on the rock.   This way the vinyl melts or forms in all the nooks and crannies.  I used a small soldering torch from a distance.  This technique works by somewhat forming around the surface in a similar manner as shrink tubing.  I'm not sure if everyone knows what that is, but it's good stuff for electrical wiring.
I have even thought about using glow in the dark paint so that it lights up at night.  My idea was to carve my street address into a rock which is placed in the front yard of a house so people can locate it at night.  It sounds kind of corny, but its a creative idea and might be helpful if you have a long drive way with no lights at the beginning of the driveway.
Leave me some comments below.  Got a question, a tip for people, or idea?  Leave it below.
---
Share this on social media or email by clicking below!