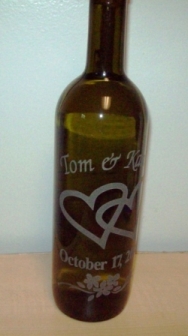 There seems to be a lot of people asking me about how to sand blast wine bottles lately. This is a good thing because that means there may be a large demand for selling unique wine bottles for gifts.
Recently, I got this email from someone about wanting to etch designs with a sandblaster. For the most part, it's fairly easy to do, and most of you will probably know how to do this, but there is a tutorial in the link below if you need help with this.  If you have been wanting to do this as a business idea, then give the wine bottle gift market a try.  Events like weddings, anniversaries, and birthdays could be a good start.
All I want to do is sand blast wine bottles. What will I need to do it? My husband has a large air- compressor and a pressurized pot for blasting. Any help would be appreciated. Thank You
If you are looking for more information, you're in luck because I have a bunch of free information on my blog such as this personalized wedding wine bottle tutorial.
Also, I wrote an ebook manual for more tips, tutorials, and etching equipment.
Check out the tutorial and leave me a comment or ask a question on the blog. I try to respond to comments so, please ask them here.
Thanks
-Eric
---
Share this on social media or email by clicking below!