I need your help! I am always looking to make innovative sandblasting equipment (like some of the stuff I showed here), that is not only affordable, but something that also works better.
Update: I have now written plans on how you can easily make these inexpensively here: http://www.glassetchingsecrets.com/shop/vari-blast-footswitch-plans.html
Recently, I had an idea of making a pressure pot foot switch which works somewhat like others, but can hold up to higher pressures, last long, allow variable pressures, and be about 4 times more affordable. If you are unfamiliar with this type of equipment, it gives you control over the pressure for both shading and sandcarving.
So I created my own sandblasting foot switch that I am thinking about bringing to the market to help people save money and have a quality setup. I remember when I started out many years ago, I was using a dead man valve! Boy, was that horrible and it would cost about the same price as this. You can see one of the foot switch prototypes that I made in the picture below.
Now- I would like to give one away to someone for free in exchange for feedback. It would include everything such as the:
foot switch with adjustor for higher pressures (obviously)
hose adapter & clamp
10 foot long hose (this isn't the cheap junk you find in hardware stores- it's a abrasive resistant, strong flexible hose)
Nozzle with tip
I have been testing this design for the last 2 months and tweaked it a few times with constant improvements each time. So far, I love this inexpensive thing and it works awesome for me. The design is very simple but works better than anything I have ever had for my pressure pot.
I will pay for the shipping and everything, but I plan on giving only one away. All I ask is that you give me feedback. I would like it to go to someone who would use it often and could benefit from having it. Remember, this is only for people who have a pressure pot sandblaster!
Raffling The Foot switch Out
I figured it would be fun to create a raffle for the free foot switch. To enter, please just leave a comment below and I will run the raffle through a Random Number Generator.
Also, in the comment, leave some feedback on what you think of this foot switch idea. Do you think it would be marketable? Is it something that you would be interested in? Also, how much do you think people would pay for this?
Update: The raffle entry will end on February 7th next week at 5PM eastern and be for the US only. Sorry it's been taking so long. I wanted to include everyone.
Thanks everyone! What I did was remove all my own comments and all the people that didn't qualify because they either didn't want it or weren't in the US. I even created a pdf with the list here. (I don't know why I did it. I am sure no one really cares that much, but I just like to be fair). I then used a online random number generator based on that list shown below.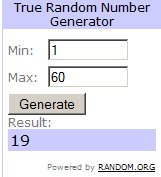 So congrats Johnny Gordon
---
Share this on social media or email by clicking below!