Tropical etchings and sand carvings are always fun and a big interest to me.  The ocean and sea life always produce marvelous scenery to base your artistic work on. And it seems like many other glass artists think so also.  If you check around other websites, you will realize that a lot of etching artists work with tropical themes.  This might also be because this craft has been desirable in areas that have shores or tourist areas.  Anyway, here is a critique of the second project to give some tips on my past mistakes with the example shown below.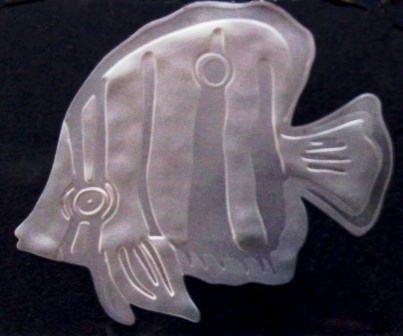 Sadly, this was one of my first sandcarvings that I did many years ago of a tropical fish.  It wasn't the greatest, but I decided to designate it as the picture on the cover for my information manual just because it's what sparked my newly found hobby.
My first suggestion is the pattern isn't a great one for multi-stage sandcarvings.  Line patterns are usually best for this to look good.  A second suggestion is that the depth differences aren't noticeable enough to distinguish some areas from being closer than others.  For example, the front fin should have been carved deeper to help show that the other fin is behind it.  That would have made the fish look more three dimensional.
Got a tip, question, or comment?  Then, please leave it below.  I hope these critiques are helpful. Thanks
---
Share this on social media or email by clicking below!