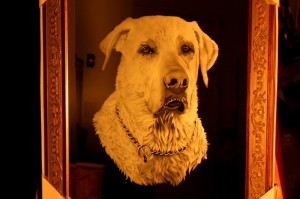 This post is by Dave Schulte. This is a mirror I did for some friends in Texas who lost their prized quail hunting dog and family pet to a Rattlesnake bite. (Large photos are shown below) This project was all hand cut on a regular paper resist that was glued down over masking tape. The mirror was first covered in 2 in. tape slightly overlapping. This is really not a good way to cut a mirror as you are cutting through two layers of material but it was all I had at the time.
You can go to a printer and have your image printed on adhesive backed Avery vinyl to any size you want as long as you start with a high resolution picture suitable for blowing up in size. Once to size you need crisp lines that you can see to cut.
I don't number my work but use a system that works for me by simply analyzing the picture first into 3 shades. White areas, gray areas, and black areas. I blast in this sequence also starting with all areas that are white (full frost) followed by gray areas (partial frost) and finishing with black areas (glass left un-blasted and clear). Once you gain some experience you can stretch your blast to about 4 levels of blast but that's about it.
I use a pencil type blaster with very small tips (measured in the thousandths) which shoots a very fine stream of abrasive. This is needed for very fine detail and tight areas of blast to minimize over spray. I blast at pretty low pressures using 220 grit aluminum oxide. I don't blast in a cabinet either. I blast outside on an easel on nice days. With the blaster I use the amount of abrasive needed for a whole 16X20 mirror is probably about 3-4 ounces. This gives me a lot more freedom to see the work and blast and peel as I need to.
---
Share this on social media or email by clicking below!