If you know me, I always enjoy experimenting with different types of media and mixing other processes with glass etching. Recently, I decided to write up the process of adding silver mirroring to one of my etchings which will be fully documented for our members here. (Please give me a few more days and the module should be complete 🙂 )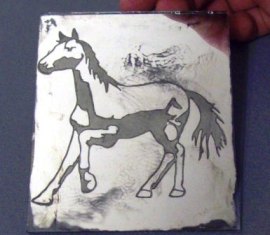 Anyway- this can create some very cool pattern effects with your etchings that I wanted to share with you and hopefully others will try this out. There are so many things you can do with this hobby that its hard to have enough time in life to experiment with them all.
I ordered this silvering kit to make your own glass mirrors and as you can see in my picture, it did not turn out good at all! In fact it turned out horrible. Oops
But I am testing different kits and will report the best one for the price. So standby and if anyone has done this before, it would be great if you wanted to share your projects.
Also, I will be sharing with you other media that you can use like this mirror paint that I recently purchased and where to get all this stuff inexpensively, because I do a lot of searching around.
Hope this post inspires people to try out silvering.
Has anyone worked with mirroring before or added it to their etchings?
---
Share this on social media or email by clicking below!