I am pleased to welcome our second glass art spotlight post provided by glass artist Joe Dwight.  He provided me a bunch of awesome stained glass photos of his work, but we decided to include one of his latest works.  The details he provided us along with the photo is shown below: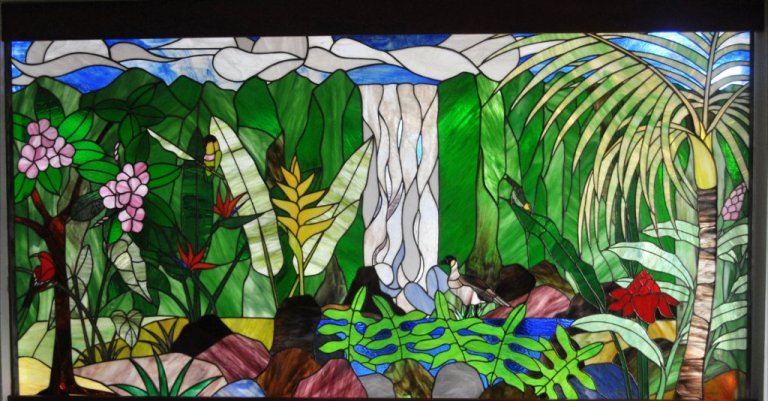 This is a foiled and leaded stained glass panel.  The first step is to meet with the client.  The second step is the design process which involves putting the clients ideas down on paper.  Then I agree with the design and complete the final working design.
Stained glass panels this size are for advanced glass artist because it is all copper foil with over 1,000 pieces.  The panel is reinforced about every 1 with vertical re-bar, which is heated and bent to follow the solder lines of the design.  The panel shown above is 4ft x 8ft and weighs about 80 lbs.  -Joe Dwight
Thank you so much Joe!  I think his stained and leaded glass is awesome.  The blend of colors with outdoor scenes is very appealing to me.  He showed me about a half dozen photos of his glass art, but I could fit them all on here.
Then, leave a comment and like always, hit the LIKE button!  Its hard not to appreciate glass art like this, and I think he deserves at least 100 likes.
---
Share this on social media or email by clicking below!